Open Innovation
Many companies, sporting organisations and clubs have intensified their search for new ideas.  This includes looking both inside their organisations as well as sourcing from outside. However, many ideas, both internal as well as externally-sourced, have fallen victim to established processes within existing organisations. Existing management processes, brand value, purchasing and human resources policies can create conflict when established organisations turn to founders in their quest for ideas. This is where a facilitated process, like the ASTN open innovation pathway can help.  
Quicklinks
ASTN Open Innovation Pathway Program
ASTN Open Innovation Masterclass 2023
Wednesday 29 November - 11am to 2pm (AEDT)
Wednesday 29 November - 8am to 11am (Singapore )
Wednesday 28 November - 7pm to 11pm (New York)
Wednesday 28 November - 4pm to 7pm (San Francisco)
You will be able to learn from the 'father of open innovation' Henry Chesbrough, hear about case studies and other examples across sports.
Planned Agenda
Welcome and ASTN Industry Update
Latest Open Innovation Results: Henry Chesbrough
Panel Discussion: Why are established organisations turning to Open Innovation and what do they have to consider?
ASTN Open Innovation Pathway Program: Martin Schlegel, ASTN Director
Fireside Chat: Launching a sportstech solution from within an established organisation: An intrapreneur shares some insights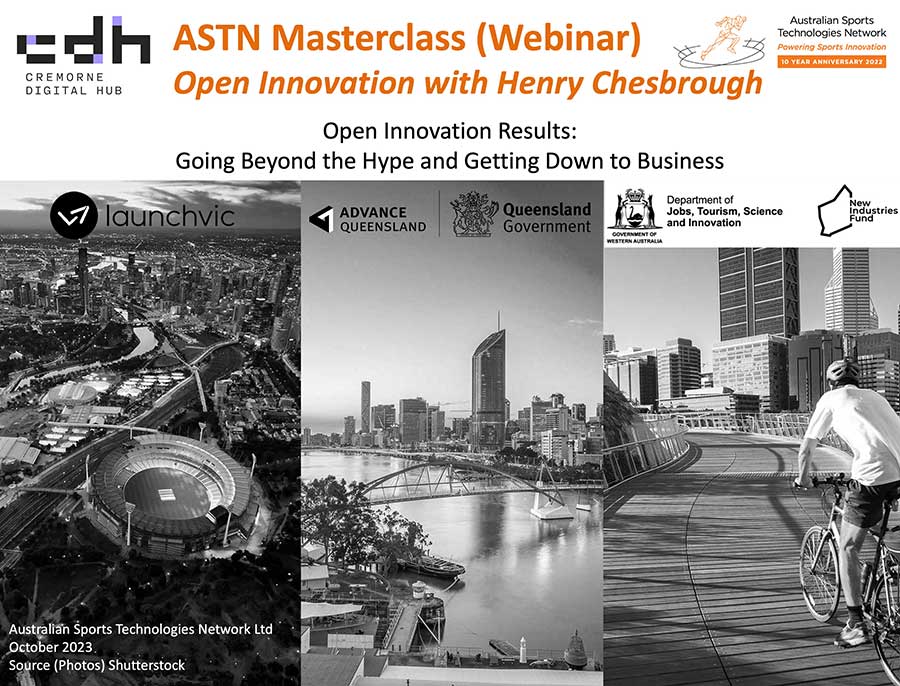 Going Beyond the Hype and Getting Down to Business
Linking startups and large corporations seems to offer the best of both worlds: Combining ideas and an innovative problem-solution approach with an abundance of resources and access to markets and customers. In a world where most of the knowledge exists outside the walls of any given firm, bringing in ideas promises gaining access to the potential next big thing for corporates. Conversely, many startups fail due to a lack of paying customers and therefore could benefit from the existing channels of the large corporate. However, more often startups are wary of the big corporate stealing their idea and IP, whereas corporate processes, like brand protection, budget considerations and sales execution of core business can kill the new quickly.
About Henry Chesbrough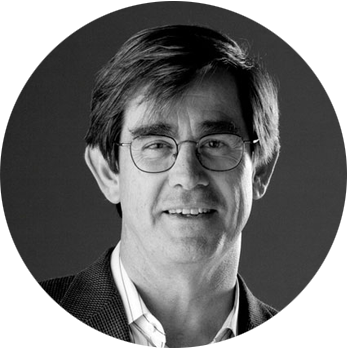 Henry Chesbrough is Faculty Director of the Garwood Center for Corporate Innovation within the Institute of Business Innovation at the Haas School of Business at UC Berkeley. His research focuses on managing technology and innovation. He is known as the father of open innovation, due to his book, Open Innovation (Harvard Business School Press, 2003). This book was named a Best Business Book by Strategy & Business magazine, and the best book on innovation on NP's All Things Considered. Scientific American magazine named him one of the top 50 technology and business leaders in recognition of his research on industrial innovation. Prior to embarking on an academic career, he spent ten years in various product planning and strategic marketing positions in Silicon Valley companies. He worked for seven of those years at Quantum Corporation, a leading hard disk drive manufacturer and a Fortune 500 company. Previously, he worked at Bain and Company.
'Pitch to the Renegades' - Sports Innovation (Expression of Interest NOW CLOSED)
WHAT IS THE 'PITCH TO THE RENEGADES' CONCEPT?
The 'Pitch to the Renegades' concept is a partnership between the Melbourne Renegades ('Renegades') cricket team and the Australian Sports Technologies Network ('ASTN') to help uncover & promote the next generation of game day, fan engagement, commercial and community engagement innovations.
We aim to identify 10 early-stage, emerging sports technology start-ups to pitch their solution to the Renegades executive teams on Thursday 25th August 2022. It will provide the opportunity for the sports technology start-ups to potentially partner directly with the Renegades, integrate the solution into the day-to-day operations and open doors into the cricket industry.
WHAT ARE WE LOOKING FOR?
The start-up solutions will need to focus on addressing at least one of the three business problems / challenges identified by the Renegades;
TECHNOLOGIES FOR GAME DAY - fan engagement & activation and event management
During the season, how can the Renegades enhance the match day experience for Renegades members and fans while continuing to engage with them when they leave the stadium.
TECHNOLOGIES FOR COMMUNITY ENGAGEMENT - content, grass roots engagement, training / skill acquisition, athlete activations, team & club management
How can the Renegades further enhance our fan-base and build passion around the Renegades as a team by engaging with community and grass roots cricket?
TECHNOLOGIES FOR COMMERCIAL MANAGEMENT - digital fan engagement, Renegades-generated content & digital asset development, sponsorship
How do we ensure the Renegades continue to resonate with cricket and sports fans outside of the BBL and WBBL seasons
For the purposes of the Pitch to the Renegades concept we are not interested in Technologies for high performance (e.g. athlete analysis, performance assessment & injury prevention, talent ID).
AT WHAT STAGE OF DEVELOPMENT DOES THE START-UP NEED TO BE?
The technology will most likely need to be a minimum viable product or in the piloting and testing stage of development. Successful start-up candidates in this challenge will have a strong platform to commercialise into cricket.
WHAT IS THE APPLICATION PROCESS FOR START-UPS?
Applying start-ups will need to prepare a pitch document no more than 5 slides covering;
Opening slide including elevator pitch (vision: Problem-Solution-Impact)
Description of product / solution to address the business problem
Market Strategy and Traction (if any)
Founders / Team
Desired outcome from Renegades partnership – and what's needed to make it go live?
Pitches to be uploaded onto the Application Form provided.
WHAT ARE THE KEY DATES?
Friday 15th July 2022 – Applications can be lodge via online form
Thursday 11th August 2022 - Applications close at 11:59pm
Thursday 18th August 2022 - Candidates Shortlisted
Thursday 25th August 2022 – Pitch to the Renegades Day (12noon – 4pm)
September 2022 – Renegades discuss solution integration with Selected Start-up
October – December 2022 – depending on application of the solution, pilot into operations accordingly.
PITCH TO THE RENEGADES DAY (Thursday 25th August 2022):
Ten selected sports technology start-ups will pitch for 5 minutes each to the Renegades and ASTN executive teams. Another 5 minutes is then available for Q&A. Some selected start-ups may need to prepare a virtual pitch on the day.
Each start-up will spend 10 minutes with Renegades and ASTN executive teams on feedback, insights & ideas.
WINNERS / AWARDS:
Winner
Meet with Renegades executives to explore ways to potentially integrate the solution as a pilot
VIP ticket x 2 to Renegades v Stars derby on 14 January at Marvel Stadium
Complimentary ASTN membership
All Selected Start-ups
Free family ticket to a Renegades game for all selected start-ups
Opportunity to apply for ASTN Accelerator Program or Pre-Accelerator Program focused on accelerating commercialisation outcomes.