Who We Are
The Australian Sports Technologies Network (ASTN) provide leadership in commercialising, developing and promoting Australian-inspired sports technologies.
Established in 2012, the ASTN is an industry-led Australian ecosystem of organisations with a vested interest in sports technology development. This includes leading sports technologies businesses, national sporting organisations, research institutions, sports distributors & retailers, government agencies, service providers and investors.
ASTN programs are geared to assist Australian sports technology companies to scale and commercialise their technologies into international markets and assist universities and research institutions in commercialising projects.
What is Sports Technology?
At the intersection of human performance and science, technology, engineering and math (STEM), a discipline evolved which nowadays is referred to as 'sports technology' or in short 'sportstech'.
Watch the Sports Technology 101 by ASTN video here.
"As part of the sports technology and sports innovation, the sector – now typically known as sportstech – includes companies working at the intersection of data, digital, technology, business and materials with direct applications to the segments of Sports, Media, Entertainment, Esports, Stadiums and Venues, Wearables, Fitness, Wellness and Active Living."
Sports Technology or sportstech is now servicing 9 application verticals across the business of sport, elite sports and mass participation & active living.

Source: Hill, Persico, Schlegel (ASTN)
Technology Stack
The Technology Stack identifies type of technologies utilized to form a proprietary product or service solution by the sportstech business, grouped by:
Information & Communications Technologies,
Advanced Materials,
Medical, Health & Biotech and
Sensors & Devices.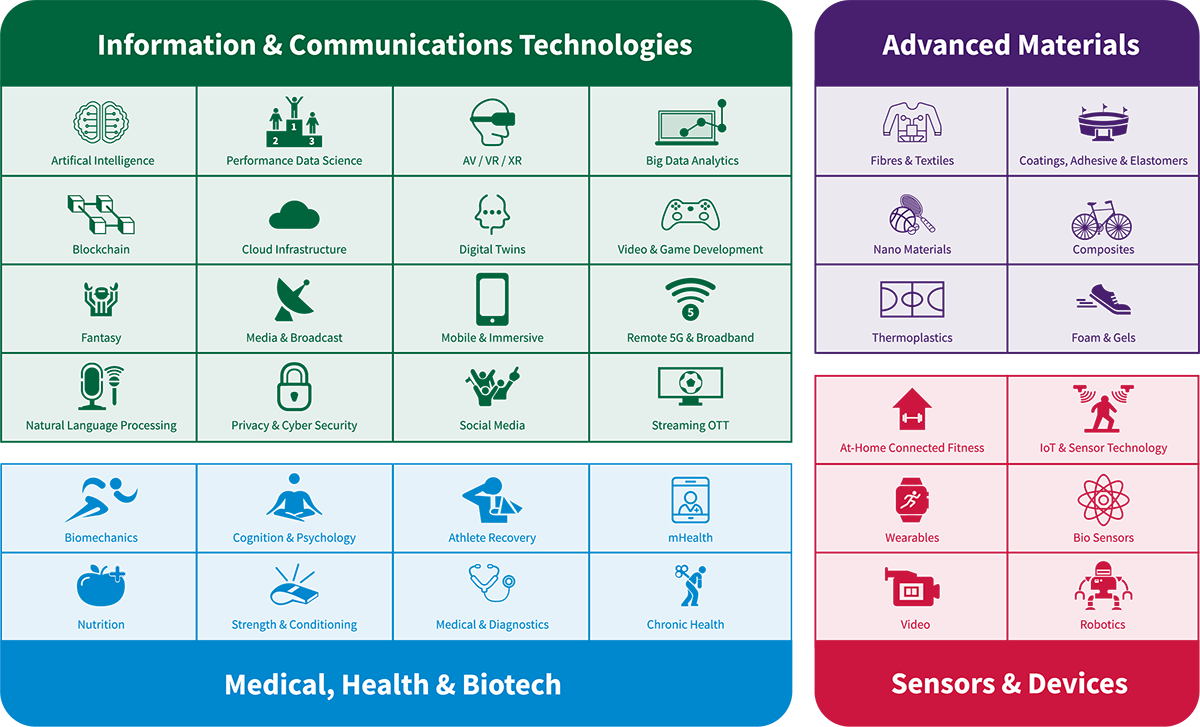 Source: Hill, Persico, Schlegel (ASTN)
What we do
As an industry-led, not-for-profit membership organisation, ASTN facilitates knowledge exchange, fosters connections and manages the Australian Sports Innovation Centre of Excellence (ASICE) based in the inner-city suburb, Cremorne in Melbourne, Victoria (Australia). ASTN is also building its State Nodes in Queensland, Western Australia and New South Wales.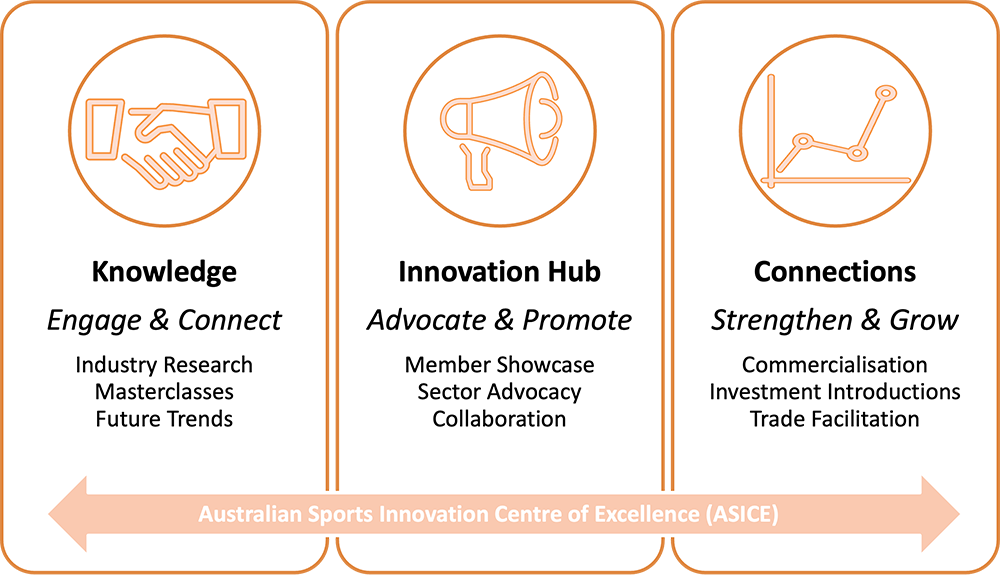 Australian Sports Innovation Centre of Excellence (ASICE)
Located adjacent to Melbourne Olympic Park, ASTN operates and manages the Australian Sports Innovation Centre of Excellence (ASICE) which will be connected to the Victorian flagship Digital Hub in Cremorne. ASTN with the support of the Victorian Government bundles its accelerator, masterclass, and sports tech operations into a physical hub location for 21st century. Various ASICE-program activities will provide ambitious Australian 'Born Global' entrepreneurs with access to world-class facilities, education, connections and coaching with the ambition for Australia to become the world's #1 cluster of innovation in sports technology. For further details visit ASICE.