Australian Sports Innovation Centre of Excellence (ASICE)
In September 2021 it was announced that Australian Sports Technologies Network (ASTN) would establish, operate and manage the first Australian Sports Innovation Centre of Excellence (ASICE) located adjacent to Melbourne Olympic Park in the Victorian flagship Digital Hub of Cremorne from 2022-2026.
Here is a link to the press release on the Victorian Government website.
ASTN with the support of the Victorian Government bundles its accelerator, masterclass, and sports tech operations into a physical hub location for 21st century. Various ASICE-program activities will provide ambitious Australian "Born Global" entrepreneurs with access to world class facilities, education, connections and coaching with the ambition for Australia to become the world's #1 cluster of innovation in sports technology. In addition to existing startup services, ASICE will provide knowledge, collaboration and connection services to a wide range of stakeholders from athletes, researchers, practitioners to startups, corporates, sporting organizations and universities.
"Through the Australian Sports Innovation Centre of Excellence (ASICE), the ASTN will be able to assist the industry in commercializing new ideas, knowledge and technology innovation."
James Demetriou, Chair - Australian Sports Technologies Network
ASICE Opening
ASTN celebrated the official opening of Victoria's world-class Australian Sports Innovation Centre for Excellence (ASICE) at the end of March 2022.
For more information, please also visit the press release.
ASICE Activity Streams
The Australian Sports Innovation Centre for Excellence (ASICE) program activities are grouped into three streams:
Knowledge and Insights: Masterclasses, short courses, development of research and sector reports and special interest groups.
Innovation Hub: Physical co-working space, member showcase opportunities, meetups and pitching days.
Connections & Collaboration: Global advocacy introductions, collaboration hackathons, awards and conferences.
These program activities are offered alongside ASTN's existing startup support services which includes pre-accelerator programs, accelerator programs, open innovation programs and business matching.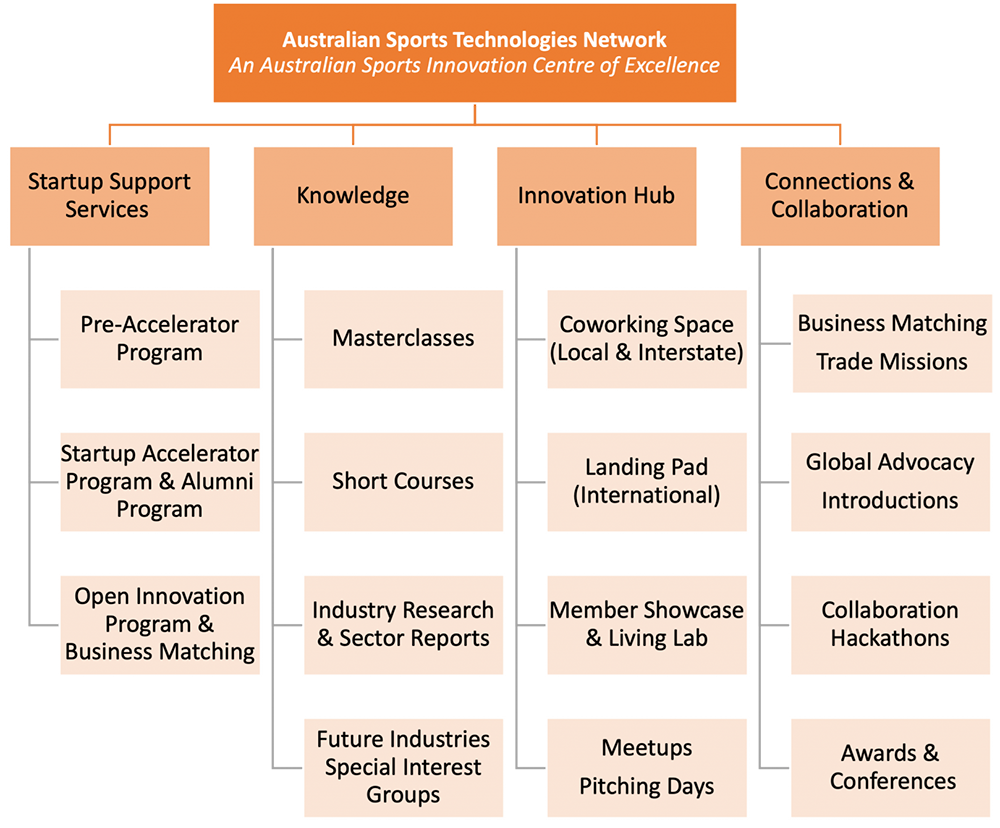 The Centre will help Australian sports technology startups, entrepreneurs and companies by providing new knowledge, education and training, programs, trade and strategic mentoring leadership opportunities as well as connecting them to develop new industry partnerships, research collaborations and open innovation initiatives. More than 7,500 people are currently employed in Victoria's Sports Technology sector in companies developing sports technologies in sports, media, artificial intelligence, entertainment, digital, mobile, stadiums, major events, wearables and e-sports with the sector generating $AUD1.2b with Victoria contributing AUD$655m of this. Over the past 8 years, M&A activity cumulatively grew to AUD$4.8b, making the Victorian sports innovation sector one of the top 6 in the world. ASICE also includes the opportunity to build State-node operations that are complimentary or otherwise aligned with the overall centre activities.
For further information please contact ASTN via email: info@astn.com.au.