New report: Fostering connections between Australian universities and local sportstech businesses
Date: 9-Nov-2023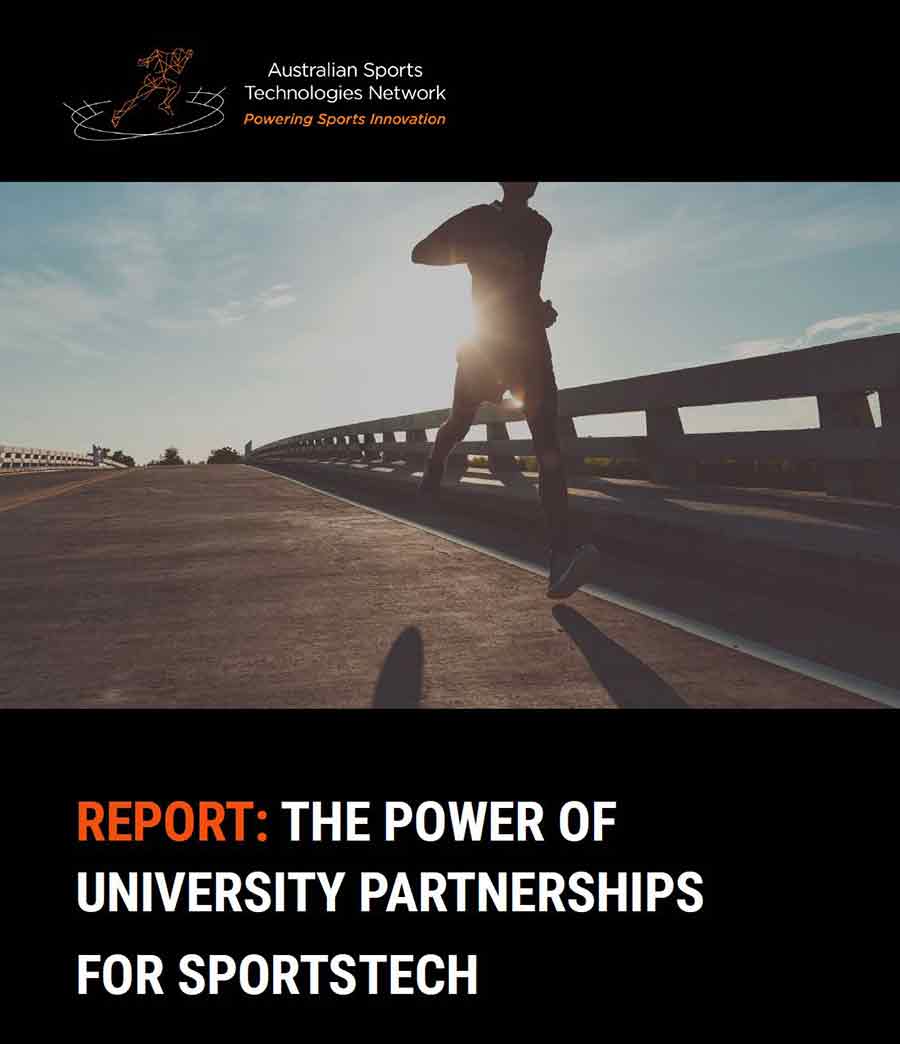 The Australian Sports Technologies Network (ASTN) has today released its inaugural report 'Power of University Partnerships' to highlight the importance of collaboration between sportstech founders, technologists and entrepreneurs with higher education institutions to increase innovation across the sportstech sector.
The ASTN report includes an evolving list of 120+ university leaders of mostly professors, researchers and sportstech industry engagement leaders who have been recognised as experts in their field. The report also includes 30+ Internship and Student Placements programs, as well as the 20+ top Research Centres for sports and technology innovation.
As the peak body for sports technology and innovation, ASTN recognises that a major challenge facing entrepreneurs, startups and SME businesses is how to find and connect with specialist academic expertise and navigate the complex university landscape.
Dr Martin Schlegel, Executive Chair, ASTN believes local sportstech businesses and higher education institutions that are not yet collaborating in this space are missing out on many opportunities ripe for the taking.
"We see a significant opportunity for the 700+ companies across Australia's Sports Innovation economy to actively work more closely and meaningfully with Australian universities, researchers and students. Our 'Power of University Partnerships' report creates a starting point for companies to track down and directly engage with suitable education leaders aligned to their vision," said Dr Schlegel.
"ASTN is passionate about connecting the dots to make it easier for local sportstech companies to seamlessly collaborate with universities to access world-class experts helping to build internal know-how and increase capabilities."
Dr Schlegel believes collaboration between sportstech businesses and higher education institutions provides a raft of benefits for both parties.
"Enabling partnerships for universities and sportstech businesses is a win-win for everyone. The business gains access to existing research, bright minds, as well as state-of-the-art facilities and equipment. The university can offer student internships and student industry placements – which is also a powerful channel to help train and access the next generation of leaders," added Dr Schlegel.
Ida Sports is an Australian sportstech business that has realised success through research and university collaboration. In 2018 Laura Youngson and Ben Sandhu joined forces to launch Ida Sports and went on to develop the first female football boot to improve gender equality in sport.
Laura Youngson, Cofounder, Ida Sports: "ASTN's Accelerator Program allowed us to develop our purpose and business model and put us in contact with RMIT's Shoe Making course and the Advanced Manufacturing Precinct. At the Precinct, we were able to make prototypes using the latest industrial design and 3D printing techniques. Our collaboration with RMIT really ensured our design was fit for purpose putting us on the right path to change the game for women in football," said Laura Youngson, Cofounder, Ida Sports.
"Both Sandhu and Youngson recognised the value of tapping into a strong network of sportstech entrepreneurs and industry leaders to propel their business forward. Leveraging our universities' talent, capabilities and resources can provide an extraordinary opportunity for the Australian sports innovation ecosystem over the next decade in readiness for the Brisbane 2032 Summer Olympic Games, especially in emerging industries and advanced technologies," said Dr Schlegel.
Research demonstrates the value of diversity of thought and collaboration across sectors to drive innovation. Prof Jerry Engel, UC Berkeley Haas School of Business has systematically researched, how global clusters of innovation comprised of startups, small-to-medium and large corporate organisations, universities, professional services firms, capital investors and government form, act and grow in supporting and enabling the commercialisation of technologies.
"We hope our latest report on university partnerships will provide a one-stop-shop for sportstech business leaders to search, identify and easily connect with universities to allow them to tap into new knowledge and growth opportunities," said Dr Schlegel.
"If you are a startup and you're not sure where to begin, we encourage you to get in touch with ASTN for guidance and support to help you to take that next step. The ASTN team can point you in the right direction to start the conversation with relevant university leaders. Alternatively, universities often have Industry Engagement Officers that can assist in connecting you with the most suitable contact," concluded Dr Schlegel.
We like to call on university leaders, researchers or scientists, or industry engagement officers to contribute to the evolving document submitting information through our submission form.
To find out more about Ida Sports read the full case study here: Ida Sports: Levelling the playing field for women with a boot that fits
--ENDS--
MEDIA ENQUIRIES
For more information, or to arrange an interview with ASTN, please contact Tara Ballard on 0436 330 267 or Tara.ballard@astn.com.au
ABOUT ASTN
Australian Sports Technologies Network (ASTN) provides leadership in the commercialisation, development, and promotion of Australian-inspired Sports Technologies. Established in 2012, ASTN is today a world-leading pioneer with over 750 organisations in its national network across the landscape of Sports Digital, Sports Research, Stadium/Venues, Media, Entertainment, eSports, Human Performance, Fan Engagement, Sports Data, Artificial Intelligence in Sports, Sports Equipment, Sports Smart Apparel and Sports Universities.