Reflecting on a year of sportstech successes
Date: 15-Dec-2022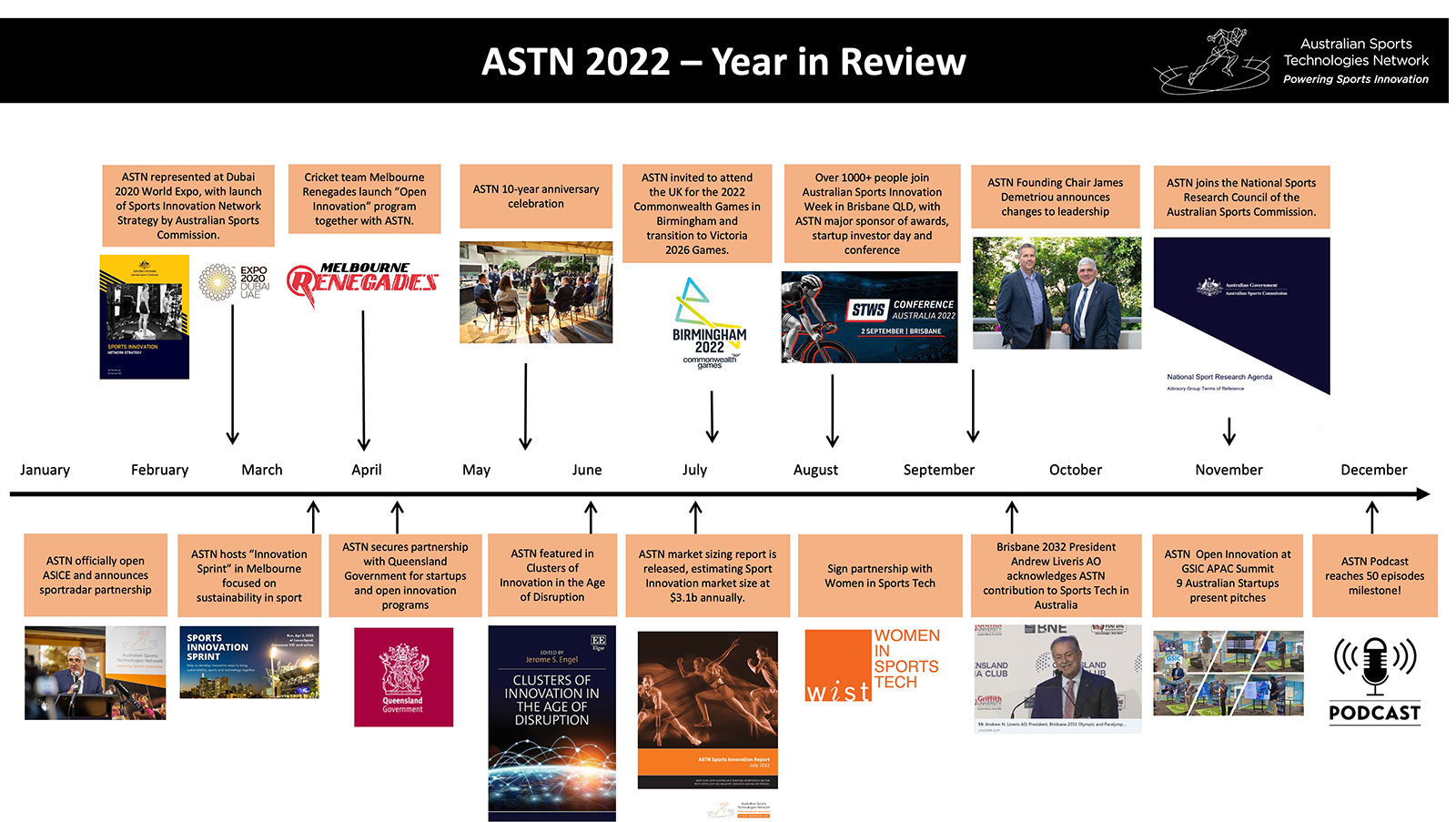 The sound of Cricket on TV and talk of Australian Open tickets can only mean one thing; another year is coming to an end. As I reflect on all the momentous occasions for the Australian Sports Technologies Network (ASTN), I can't help but feel incredibly grateful. I'm appreciative of all the support we've received from near and far and proud of the successes our network of local sportstech businesses have achieved in such a short space of time.
This year we continued our legacy of facilitating local sportstech startup success by successfully mentoring early-stage founders and growth-stage entrepreneurs. In total, ASTN programs have now supported almost 200 early-stage and growth-stage startups combined through its pre-accelerator and accelerator programs.
For the first time since ASTN was founded we had a change in senior leadership and thus I am incredibly humbled to now be at the helm, alongside Jasmine Lim as Deputy Chair, as I write this summary. I'd like to take this opportunity to once again thank our founding Chair, James Demetriou, for his dedication and contribution to the industry as a whole. Over the past 40 years, James has played a major role in Australian sport and is a respected leader in sports business, sports governance and sports technology. I have big shoes to fill but thankfully he hasn't gone far, moving into the position of Executive Director of Commercialisation and Partnerships for the next three years, and I'm appreciative of his ongoing guidance and support.
This year marked 10 years for ASTN and to commemorate the milestone we launched our inaugural Sports Innovation Report. The report quantified the remarkable 170+% growth of the industry highlighting its worth of almost $3.1 billion revenue annually with 660 companies employing nearly 10,850 people. It also uncovered 10 industry trends and opportunities for sportstech businesses to harness which also form ASTN's strategic objectives.
ASTN officially launched Victoria's world-class Australian Sports Innovation Centre for Excellence (ASICE) which enables us to bring together the most innovative minds to support the commercialisation of research and development and attract national and international partnership opportunities for Victoria. Today it's a hive of activity with businesses connecting and sharing valuable knowledge, ideas, and resources to accelerate Australia's sportstech industry. At the same, ASTN is continuing to build its national footprint. Having gained the support of the Queensland State Government and being able to support the ActiveKIT initiative of the Department of Tourism, Innovation and Sports has seen Queensland-based sportstech startups being able to benefit from ASTN programs. We are looking forward to extending this important partnership whilst expanding ASTN activities nationally.
At ASTN we're passionate about 'connecting the dots' by linking startups with the wider community to facilitate new opportunities, innovation and growth potential. This year we launched ASTN's Open Innovation Challenge – which is hopefully the first of many – to give Australian sportstech startups the opportunity to pitch to the Melbourne Renegades. The participating startups sought to solve the business challenges facing the Big Bash League team, in turn they were able to test and validate their products.
We also partnered with Sportradar to facilitate growth in sports technology, in Melbourne, Victoria. Working closely with Sportradar, we are strengthening our network to reach more entrepreneurs and startups that play in the sportstech space – particularly across media and entertainment.
ASTN was honored to be part of a trade business program to Birmingham and London which included tours of Loughborough University (world #1 sports), Wimbledon, Liverpool FC, Birmingham Innovation Precincts, Athletics and launch of the 2022 Commonwealth Games at Australia House London. The visit enabled us to share the great work happening in data, digital and tech in Australia. As we know the UK is a critical partner and there are a breadth of partnership opportunities to be had with the other side of the world.
We signed a long-term partnership with Women in Sports Tech (WiST) who we are now collaborating with to create specialised programs and provide mentorship to ASTN members to help them to ensure a more inclusive and diverse workforce. We see many incredible women blazing their way through the industry and this alliance aims to break down further barriers and ensure we have their backs into the future.
The ASTN 'Sport's Cutting Edge' podcast recorded its 50th episode with dedicated listeners who tune in each week to hear from industry leaders from sporting bodies and athletes to technology experts and sportstech founders. Our podcast has proved to be an effective way to share best practice, learnings and advice to drive further innovation and spark a cross pollination of ideas to spur the industry forward.
Looking ahead, the global sportstech industry is expected to grow by 17.5% per annum and our aim is to be the world's leading sportstech ecosystem by 2025 employing 2,000 more people. The next decade towards the 2026 Victorian Commonwealth Games and 2032 Queensland Olympics Games are tremendous game-changing, job-creation opportunities.
ASTN is committed to strengthening the reach, reputation, and connections of the Australian sportstech startup ecosystem across important global markets. In the new year we look forward to welcoming a host of new founders, entrepreneurs and startups into our programs and support them to scale and commercialise their technology and ultimately reach their full potential.
On behalf of ASTN, I wish our partners, network of sportstech businesses, employees, and the local communities we live and work in, a safe and happy break spent with loved ones.
Martin Schlegel, Chair, Australian Sports Technologies Network