Levelling the playing field and securing a spot on the podium for future generations
Date: 26-Jul-2023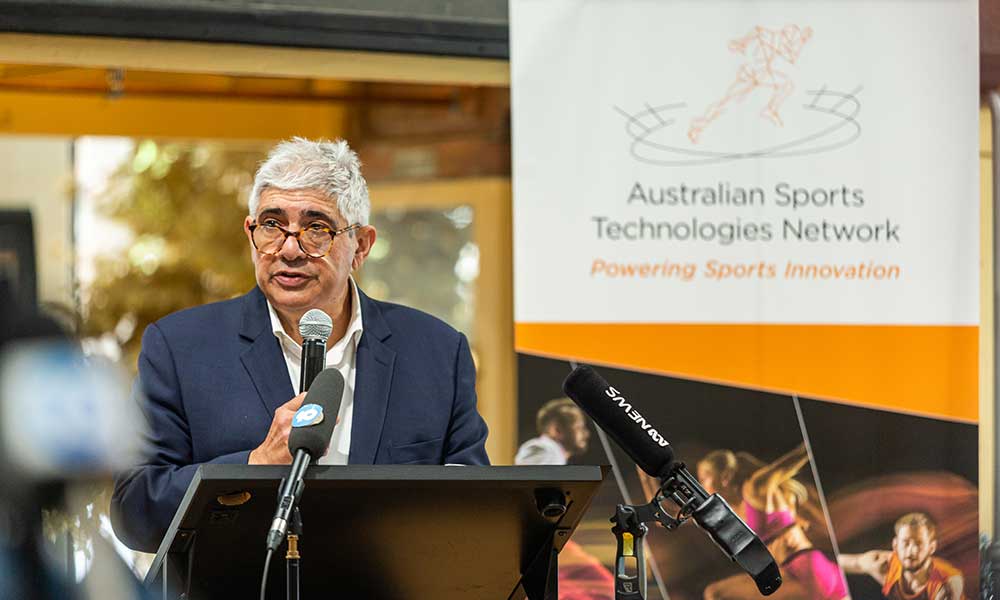 There's an ancient Greek saying that says, "a society grows great when its old people plant trees in whose shade they know they shall never sit." I've always wanted my efforts to leave a legacy for those who come after me and, as I hang up my boots and retire from Australian Sports Technologies Network (ASTN) – Australia's leading industry body for Australian-inspired sports technologies – I reflect on how far the local sportstech sector has come.
Building resilience in the face of adversity and standing up to racism in sport
In 1951 my parents packed up their lives in Cyprus and put down roots in North Melbourne then Pascoe Vale South. They had four boys, myself being the eldest, and opened a fish and chip shop. My family was a tight unit, with strong bonds and a great love of sport. Watching many of Australia's sporting greats in our own backyard, us boys dreamt of careers in the industry.
It wasn't easy growing up Australian Greek Cypriot in the Northern Suburbs of Melbourne in the 60s and 70s. We faced much adversity and many naysayers who tried to squash our spirit. However, some important people and inclusive institutions helped us overcome these hardships and my brothers and I went on to success on the footy field as well as academically and in the sports business industry at the highest level. The Pascoe Football and Cricket Clubs had an inclusive spirit which led to two of us playing at Essendon and one at North Melbourne. I was the first person from Hellenic background to represent the Essendon Football club. I went on to be on the board of Essendon and Andrew to be the CEO of the AFL. In my final year at Newlands High School, The University of Melbourne provided tutoring to disadvantaged and migrant kids which lead to my brothers going to Melbourne education college, Monash and Latrobe unis respectively and I went onto the University of Melbourne where I completed a law degree and master's degree.
As a beneficiary of the inclusion efforts of that time, my family and I felt we had a responsibility to improve equality in Australian sport into the future. Andrew's social justice stand to open the game to all people and ensure Indigenous players had a voice was one of his greatest legaciesy. I set out to stop young migrant and refugee kids falling through the cracks like they did in my generation. In 2006, my son Tom and I founded Sports Without Borders assisting over 20,000 young people to be included in sport. Since then, inclusion in sport has continued to be a prevalent conversation and one that we need to keep having. I applaud those who stand up and fight for equality as it is simply the right thing to do.
The best footballers always think a kick ahead of the play
In adulthood I became aware that Australia had no strategy or funding to support sportstech founders to compete on the global stage. I predicted the emergence of an important industry and had a dream to establish a thriving sportstech innovation network. With the great counsel of Bob Beaumont's and his connection to Kate Lundy, the then Sports Minister, and ASTN's first CEO Craig Hill we lodged a proposal to establish the ASTN. Within 26 days, two years' worth of funding was awarded from the Prime Minister and Cabinet to establish a not-for-profit membership organisation that would play a leadership role in the development of 'Australian-inspired' sports technologies.
In 2012, ASTN became one of the first co-ordinated sportstech 'ecosystem' or 'super-cluster' initiatives globally. Thus, with world's best practise at its core, ASTN's 'born global, die local' mantra was crafted, and we designed world class programs that would instil a global mindset in all ASTN companies from day one. and ASTN's first CEO Craig Hill we lodge d a proposal to establish the ASTN. Within 26 days, two years' worth of funding was awarded from the Prime Minister and Cabinet to establish a not-for-profit membership organisation that would play a leadership role in the development of 'Australian-inspired' sports technologies.
Since then – according to the latest ASTN 2023 Sports Innovation Report – the sector has grown a remarkable 11.8% per annum since 2012 when only 284 companies were identified. It is now worth A$4.25 billion which is equal in value to Australia's fintech sector. There are now 758 sportstech companies employing 13,438 people. Proving the sector has well and truly moved out of its nascent stage and is predicted to continue its successful trajectory with a new wave of technologies emerging in preparation for the Brisbane 2032 Olympics and other major events in Australia's sporting calendar over the next decade and beyond.
The next generation of sportstech founders are paving the way
ASTN's success, is a result of the many dedicated organisations and passionate people that have believed in it and thrown their support behind it. ASTN's network of companies and founders have proven that they are almost unstoppable. We are home to innovative game-changing brands like Zena Sport who create apparel fit for females to prevent injuries, IDA Sports who distribute female soccer boots through North American retail stores, GTG Network who leverage sports data and statistical insights to enhance the fan experience, and ActiveXchange who harnesses information that support communities to become more active and healthier. Others, like VueMotion or Gerford AI deploy deep technologies to automate, simplify or enhance performance analytics and companies like Vald Performance, KangaTech or Smartabase are expanding from sportstech to adjacent sectors like health and defence and off course Next Level racing, world leading sports racing simulator company. The bold ideas and sheer grit of these businesses, along with hundreds of others, have contributed to making Australia one of the top six sportstech ecosystems globally.
The future is fit for sportstech in Australia and we're only just getting started. With the global sportstech industry estimated to be worth more than US$50 billion and expected to grow by 13.8% per annum to US$100+ billion by 2027 – there are plenty more opportunities ripe for the taking.
I will forever be grateful for the part I was able to play to help improve equality in sport as well as develop and build the sportstech industry into one of Australia's leading sectors. The same sport that helped my family in those difficult early days. I'm humbled that I was given the opportunity to plant trees and make a difference to the next generation participating in Australian sport today. I'm looking forward to watching from the sidelines as the next generation of sportstech founders and sporting greats get their time in the sun.
Press Release: ASTN announces changes to its board of directors