Aerial skier Lydia Lassila jumps from the Olympics to sportstech business, BodyICE
Date: 18-Jul-2023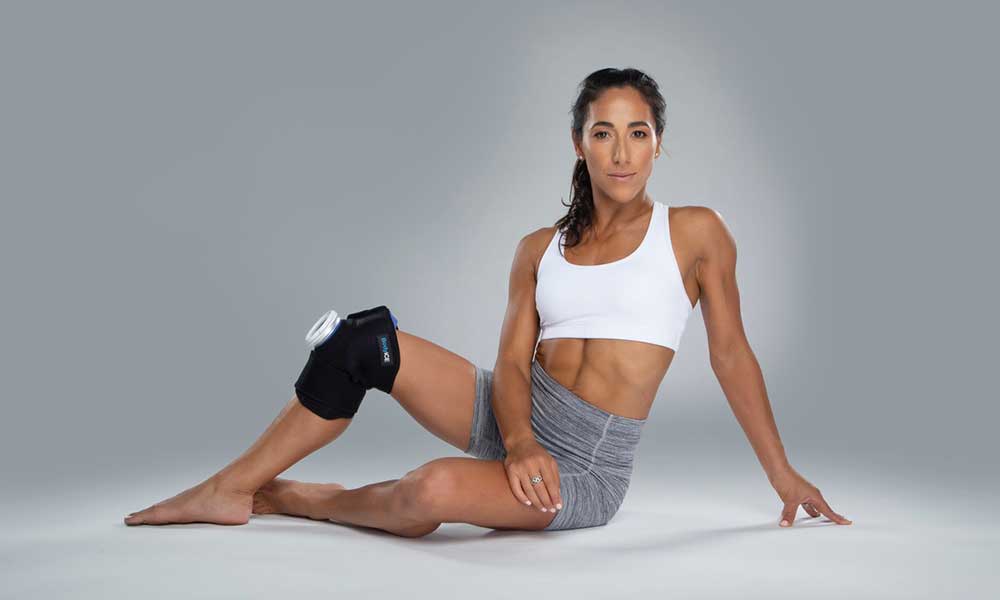 Her accolades include being awarded Sport Australia Hall of Fame's Don Award, Australian Institute of Sport's Athlete of the Year, Ski and Snowboard Australia Athlete of the Year and the Order of Australia Medal.
Lassila is also the founder of Zone By Lydia, an eco-conscious yoga brand, and BodyICE, specially designed compression ice garments that help people recover from injuries. BodyICE was born out of Lassila's own injury experience.
After two ruptured Anterior Cruciate Ligaments (ACL) within a year (2006/2007), Lassila decided to use the opportunity to start something that would help future athletes. She worked on building the business remotely as she spent 10 months of the year away training.
Building a dream to go to the Olympics – a born Olympian
Lassila was a born acrobat and threw herself into gymnastics at a young age. Lydia was consumed by the idea of becoming an Olympian. But at age 16, an injury ended her gymnastics career.
"From a young age, I was certain I wanted to win an Olympic gold medal. Destiny opened up before me, and a new challenge was presented – one that would change my life forever. Australia was embarking on a unique program of transforming ex-gymnasts into aerial skiers. I was selected and offered a chance for a new beginning," said Lydia Lassila (OAM), Australian Olympic aerial ski champion.
In 2010 Lassila's dream came true and she won the Vancouver Winter Olympic Games. On 20 October 2010, Lassila was awarded the prestigious 'The Don' award by the Sport Australia Hall of Fame, which recognised her ability to inspire as well as her achievements during 2010.
Turning injury into an idea
In 2006 Lassila ruptured her ACL six months before Turin Olympics in a training accident. Allograft surgery was needed, where donor tissue from part of an achilles tendon replaced the ACL. And then Lassila ruptured it again in the semi-final of the Turin Olympics therefore needing to spend 2006/7 rehabilitating.
During her time in the athlete's village Lassila had a shopping bag of ice for her knee that was leaking water everywhere. She was in a world of pain, physically and emotionally, when she had a light bulb moment.
"I realised I didn't need to work harder. I needed to work smarter. Basic and simple ice compression products didn't exist in Australia. I started sketching the first concepts of what BodyICE would eventually become. Straps that lock a bag into place which gave compression - ice on the go," said Lassila.
"Blowing out my knee was one of the best things that ever happened. Training in the United States we had access to some cold therapy products that didn't exist in Australia however they were poorly designed, not being joint specific and were bulky, awkward and inefficient."
Lassila went to China, met with suppliers and had product samples developed. With stock in the warehouse she suddenly realised that she had no idea how to sell it. Determined, she hobbled into her knee surgeon's office and gave her first BodyICE demo. Miraculously, the surgeon became her first client and bought 500 units.
Future endeavours including more opportunities for women's products
BodyIce innovation has been born out of experience. After having two children, she quickly realised that BodyICE could help postpartum women recovering from natural deliveries or caesarean sections and coming to terms with breastfeeding.
"Again, I found myself in a situation surprised by the absence of fit-for-purpose products that could help with post birth recovery. Women needed natural instant pain relief and soothing whether that be cold or heat therapy," said Lassila.
BodyICE makes ice and heat packs for women as well as a new personal care range that includes nursing covers, reusable nursing pads and reusable menstrual pads. BodyICE also has a product line for Kids – with fun and friendly ice packs that make icing not so scary.
Entrepreneur and sports legend to global ambassador for Australian Sports Technologies Network (ASTN)
In 2023 Lassila joined the Australian Sports Technologies Network (ASTN) as an inaugural global ambassador, alongside fellow athlete and entrepreneur, George Gregan.
"It is humbling to be an ambassador for a such wonderful organisation that's supporting the next generation of sportstech founders to compete on the global stage. I'm learning from George and the broader member network and thrilled to be bringing BodyICE Women to new territories," said Lassila.
BodyICE was represented by ASTN in the Europe 2023 trade mission, along with 14 other sports technology and innovation companies that visited Paris in France, Lausanne and Zurich in Switzerland, Frankfurt in Germany as well as Ghent, Tubize and Antwerp in Belgium. The delegation participated in workshops, meetings, and site visits to key sports headquarters, providing a unique opportunity to make global connections and with local agencies.
Carving a path for the future
Lydia Lassila has transferred her competitive grit in international competition into her international business, BodyICE, seamlessly. Whether being an Olympian or a business woman, she wants to positively impact the lives of not just women, but men, and children, no matter what age.
Lassila's career is a real-world example of ASTN's mantra 'Born Global, Die Local.' Having already achieved the pinnacle of sport at the Olympics, she won't be satisfied until she has grown her business internationally and reaches the pinnacle of sportstech.
To learn more about BodyICE visit www.bodyice.com. And to learn more about Lydia Lassila's career listen to the ASTN podcast interview.