ASTN and GIS partner to bring industry-ready qualifications to current and future sportstech leaders
Date: 21-Mar-2023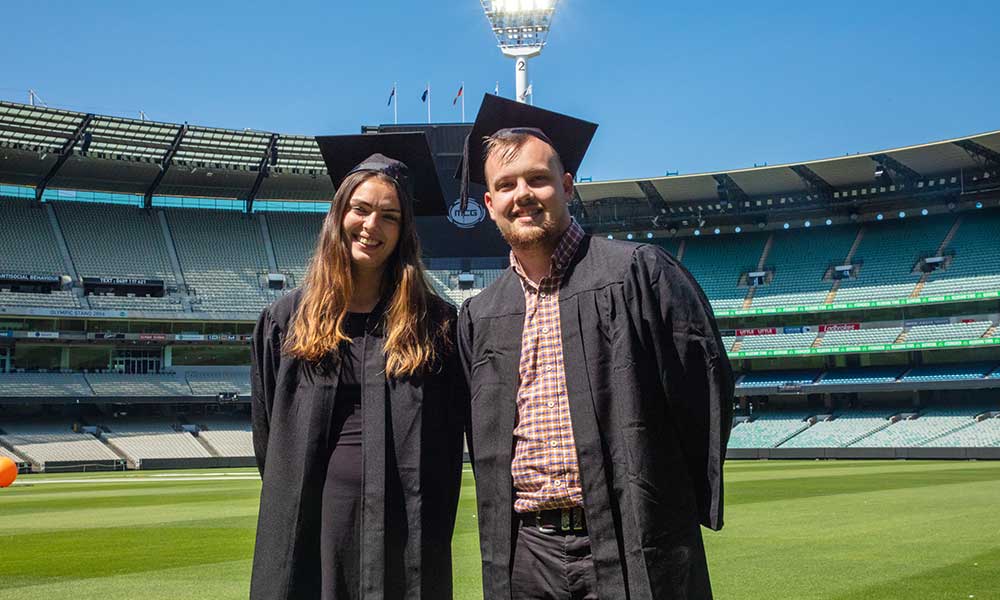 MELBOURNE – 21 MARCH, 2023 Global Institute of Sport (GIS) and the Australian Sports Technologies Network (ASTN) have today announced a joint partnership to provide unique collaborative professional educational opportunities for Australian sports administrators – to improve and accelerate their careers both here and abroad.
ASTN, the leading industry body for sports technology and innovation, is committed to accelerating Australia's sportstech industry by providing learning opportunities and supporting sports professionals to immerse themselves in the impact of innovation on the local and global sports industry, and to enhance their ability to compete on the world's stage.
Central to this collaboration is the provision of access to industry-focused master's degrees and professional education short courses to the ASTN network of world-leading sports technology organisations and stakeholders in the ecosystem.
Elements of ASTN's existing portfolio of courses on innovation and sports technology such as its Pre-Accelerator and Open Innovation programs or masterclasses will be embedded into GIS' enrichment provision for its 6,000 students and alumni from across the globe to learn from the sportstech innovation cluster in Australia.
Powered by a global network of industry leaders and elite stadium venues that include its iconic UK campuses at Wembley Stadium, London, and Etihad Stadium, Manchester, and stadium hubs in Miami, New York, Toronto and Melbourne, GIS programs are now available for Australians to study either completely online or in a distance with attendance format with a residential week in the UK, US or Australia.
"We're proud to partner with GIS to provide enhanced industry-focused sport-specific learning opportunities to our world-class network of sportstech leaders. Aligning and integrating further education pathways for sports professionals is an important part of our strategy to enhance best practice, networking and capabilities of sports organisations," said Dr Martin Schlegel, Executive Chair, ASTN.
"Our partnership with GIS not only will help to showcase Australian sportstech capabilities but also enhance sports admin knowledge and empower ASTN members and stakeholders to 'connect the dots'. By linking up with other sports industry leaders in global markets, our partnership is expected to facilitate new opportunities and global connections through the GIS alumni network," added Schlegel.
GIS has also joined the ASTN network as a Platinum Member to tap into its rich sportstech ecosystem. As part of the partnership, GIS and ASTN will work closely to provide placement and study tour opportunities for sports industry professionals to learn from their combined network of global industry leaders.
ASTN will also hold a masterclass in 2023 on sports innovation to GIS' executive partnership network and will provide support at the upcoming GIS Melbourne Sports Summit at the Melbourne Cricket Ground, where students will take part in a 10-day study tour to Australia during the FIFA Women's World Cup.
"The aim of this partnership is to create an environment that helps to provide better and increased opportunities for Australian sports administrators, not just domestically but also globally. On top of this, it will also facilitate enhanced learning and career opportunities for GIS students studying on campus in the UK and online across the globe, as well as for our executive partnership network across the EMEA, Americas and APAC regions," said Sharona Friedman, President, GIS.
To learn more about the courses offered, visit http://gis.sport/astn and ASTN.
For further information contact:
Tara Ballard, ASTN: 0436 330 267
Ray Boggiano, GIS: 0413 552 854
Global Institute of Sport
Global Institute of Sport delivers university degrees and professional education in sport. Its UK campuses in Wembley Stadium, London and Etihad Stadium, Manchester have the UK's largest cohort of sports students, and they also have global stadium hubs in Miami, New York, Toronto and Melbourne.
Brand new from 2023, students can now study a master's degree online, with live sessions delivered in the early evening in the AEST/AEDT time zone, and for the distance with attendance options with one week of intensive face-to-face teaching in Melbourne including at the iconic MCG.
GIS also has a range of professional
education short courses covering topics such as football operations, player care and wellbeing, sports administration and EDI.
Learn more about Global Institute of Sport at https://gis.sport/au/.

Australian Sports Technologies Network
The Australian Sports Technologies Network (ASTN) provide leadership in the commercialisation, development and promotion of Australian-inspired sports technologies.
Established in 2012, the ASTN is an industry-led Australian eco-system of organisations with a vested interest in sports technology development. This includes leading sports technologies businesses, national sporting organisations, research institutions, sports distributors & retailers, government agencies, service providers and investors.
ASTN programs are geared to assist Australian sports technology companies to scale and commercialise their technologies into international markets and assist universities and research institutions to commercialise projects.
Learn more about Australian Sports Technologies Network at https://www.astn.com.au/.