IOC Esports Week – Welcome to the Business of Esports
Date: 11-Jul-2023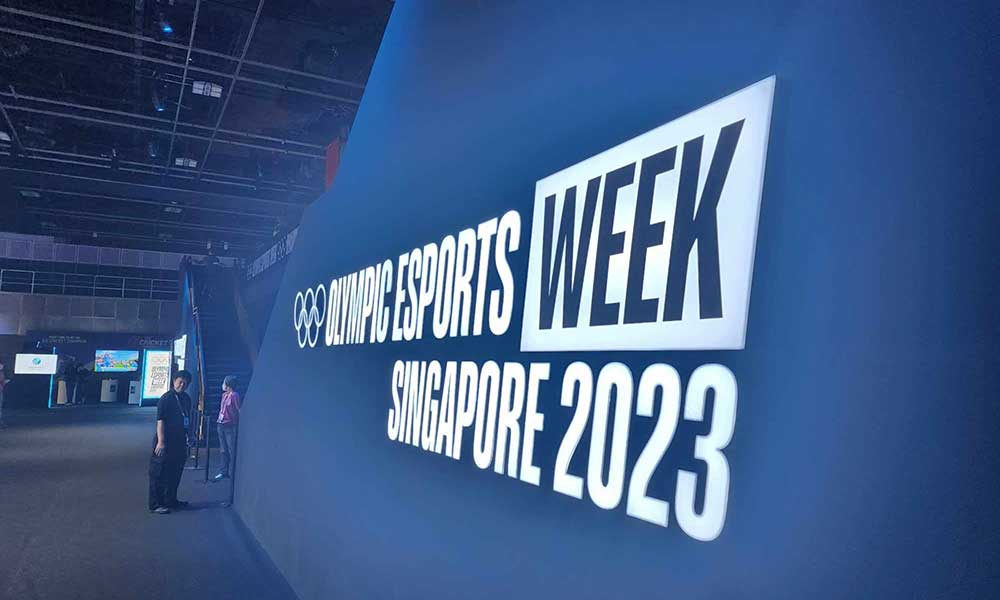 Overall we are pleased to report the 3-day event was a big success! It also raised a lot of fascinating strategic questions for future editions – especially how such a "Corporate Esports" of "Business of Esports" event would fuse with traditional large-scale, mass market Esports models which have been popularised to date.
1. Host Location
Singapore was a great choice of host for the first year. Similar to the inaugural Youth Olympics in 2010, Singapore presented itself as a safe, sophisticated and smart host location with a resemblance of the "Switzerland-equivalent" of Asia. Accordingly, this begs the question whether the IOC will run this event every four years similar to the traditional Summer and Winter Games or host it annually? Regardless, as Singapore is positioning itself as a global hub of Esports the choice of location matched the large occasion. In ASTN opinion, an annual format makes sensed for the Olympic Esports Series – it's simply too fast moving to do every 4 years and an annual event would allow for experimentation, refinement and piloting of new partnerships, new cultures and new audiences.
2. How Did It Feel?
IOC Esports Week was not the traditional Esports mass market models we have become accustomed too with 30,000-100,000 audiences filling stadiums. The event felt a bit like an "Esports for Business" showcase that had been purposely designed to show older audiences (40+ years old) how Esports worked, how it could be commercialised and how the digitisation of sports presented new possibilities for new frontiers for sports. The enter event was delivered in a convention centre so the event delivery model was "plug and play" – especially for countries that might be too small or too remote to ever host a full Olympic Games, this could be an excellent and realistic option for them to host. From the outset, the absence of FIFA and the traditional Esports powerhouses (Microsoft, Ten Cent, Riot and more who were not present at the event) felt a bit like your cousins weren't invited to the Christmas lunch -- it was always going to be a bit lonely and its always better when the full family is together.
Nonetheless, once you overcome their conspicuous absence, there was still between 30-40 exhibition booths and probably 3,000 people consistently walking across the different floors at the Suntec Convention Centre in Singapore1 from morning to night. The main exhibition area had 800-person capacity and did a brilliant job of showcasing the uniqueness of each digital sport. How the IOC navigates its various partnerships with the traditional sports and new Esports (and the various conflicts of interest) will be another fascinating area to watch in the years ahead.
3. Most Popular Finals
Organizers cleverly started the event on the Friday with Cycling Finals (using Zwift2 technology) which was executed to perfection. The surprise packet as an entertainment product was Just Dance finals which had the full-house audience buzzing – despite the odd song choices (likely seriously obscure songs!!) it was the most fun and joyous of all the Olympic Esports Series (OES) Finals. Witnessing Just Dance3 was the eye-opening moment you realised that the IOC was actually looking for something different here – a celebration of movement, having fun and participating which too often gets lost with elite traditional sports.
The FIA Motor Sports Finals (using Grand Turismo4 and Next Level Racing5 technology) Finals was truly incredible, as well as being the most popular attended booth across the 3-day event. The Motor Sports spectacle visually stunning and drivers devilishly fast, the commentators were exceptionally good creating a spectacle that was almost as good as a F1 experience in person. Canoe simulations were also popular, as were the golf simulation and golf virtual reality technologies.
4. Winners but not real winners?
It remains unresolved, whether the Top 3 performers in each sport are in fact considered Olympians. Even though the competitions were conducted under the Olympic Rings and with traditional Opening and Closing Ceremonies -- it felt odd that these Olympic Esports winners were celebrated without country flags being raised, without a national anthem being played and that champions were awarded trophies and not medals. It appears organisers should either choose to make the medal experience the same or totally different but not something in between in order to avoid any potential brand confusion. A minor but important area for improvement in future editions.
5. Winter Sports missing?
Not sure if it was intentional, but there were no Winter Olympic Sports represented at the entire event! There are a dozen well-known simulation companies in the winter sports space -- especially for skiing and ski jumps. Adding Winter Esports is an example of why running the event annually seems like a logical extension for the International Olympic Committee – potentially allowing the host country to add different styles, selections and character to the Esports and Digital Sports chosen. Winter Sports simulation machines will certainly offer lots of fun and entertainment value.
6. Passive Sports
Some of the exhibitions were a little underwhelming for various reasons. Chess, cricket and cards games struggled to gain traction among the attendees in this inaugural year. Partially because of where they were physically situated within the convention centre, but also by virtue of the fact they have not yet found a way to create live, real-time entertainment products that are engaging for external audiences. For example, the ICC cricket mobile app had a lowly attended exhibition booth – despite having a very good digital game, cricket being a hugely popular sport in the sub-continent and despite the fact number of existing excellent cricket simulation platforms (using VR, bowling) might have proven to be far more interactive. This poses some interesting questions around how future Esports Olympics Series will choose which vendor companies are selected to showcase when multiple world-class simulation and how interactive offerings will co-exist side by side.
7. Celebrity firepower
Given the trend of pop culture within Esports, it would have been awesome to see cross-over support from the traditional Summer and Winter Olympic Games athletes and celebrities. Meeting with some of the athletes and/or celebrities engaged in Esports could have created a serious buzz and "money can't buy experiences" by overlapping existing Olympic assets. We suspect the small pilot was deliberately kept away from traditional Olympic asset cross-over in the launch edition to allow the Esports Series to discover its own character, flair and communities. Interestingly, there was a surprisingly low number of 5-16 year-old children in the audience which seemed below expectation (especially on the Saturday and Sunday weekends). It was also interesting to learn that Singapore (and Asia-Pacific generally) is home to a number of bona-fide Esports World Champions (from the traditional Esports world) who culturally did not recognise the legitimacy of the IOC Olympic Esports events. Trust takes time to build. Something celebrity firepower could help overcome easily in the future.
8. Technical issues
Unlike traditional Olympic events where technical or administrative errors by administrators or event support are rarely evident, Esports Week saw a number of technical issues during the Finals showcase. Examples included screening mistakes (e.g. Fortnight/Shooting Finals), blackout on screens (e.g. Motor Sports Final) and conventional scoring systems not working or simply ignored (e.g. Just Dance Finals). Yes – it's a pilot program so we'll allow some leniency. But it's genuinely hard to pinpoint why these technical issues occurred in front of audiences. For future years, it highlights for the IOC the need to execute with utmost excellence and professionalism in order to deliver a flawless event audiences associated with the Olympics brand.
9. Needs Sports Technology
Aside from an outstanding Golf exhibition (especially Golf+), many of the Esports showcased could be significantly enhanced with the integration of classic sports performance technologies – such as wearables, sensors, patches, devices and human performance measurement systems. As Esports athletes train, prepare and compete like traditional athletes, applying electronic performance trackers on Esports athletes, deploying video capture on movements or monitoring heartrate metrics, sweat detection or eye tracking on Motor Sports drivers could provide a next level of engagement. With this being the inaugural event, in future years the collection of data and metrics should be more essential.
There was a noticeable lack of hospitality providing food, drink or even water within the venue. Although attendees were willing to pay for food and drinks, for example, food trucks and coffee traders were noticeably absent from the Esports Finals celebration. From a perspective of event hospitality and commercial opportunity, this seemed like a missed opportunity that could have created a further engaged audience, atmosphere and kept people within the venue.
Overall, the Olympic Esports Week in Singapore was an excellent starting point. The event presented itself as wonderful entry point by the International Olympic Committee showcasing the future of digitised sports and controlled versions of "Esports" that seemed targeted at a commercial and business audiences worldwide. It remains to be seen how future events will evolve and adapt given the remarkable courage on display by the IOC and the Singaporean hosts. The 'business' orientation of the Esports Week provided a snapshot for future sponsors, media, creatives and participants. It certainly created appetite looking ahead to what the Brisbane 2032 Summer Olympics and Paralympics Games might possibly deliver at the cross-section of emerging sports, esports, digital and virtual sports and where next generation innovations are headed.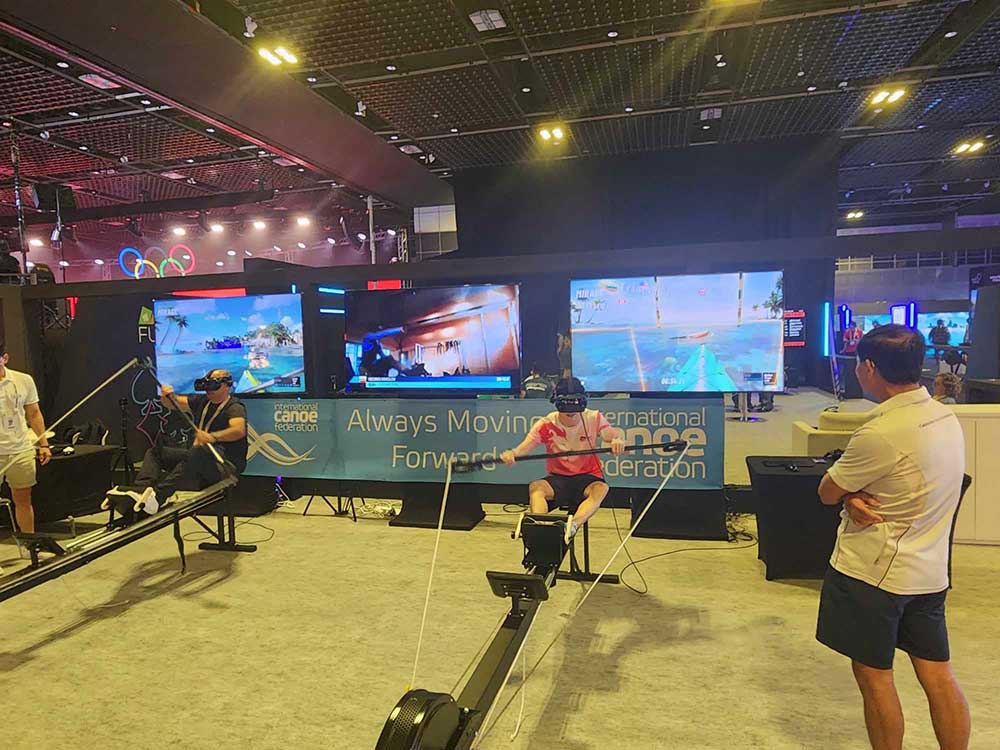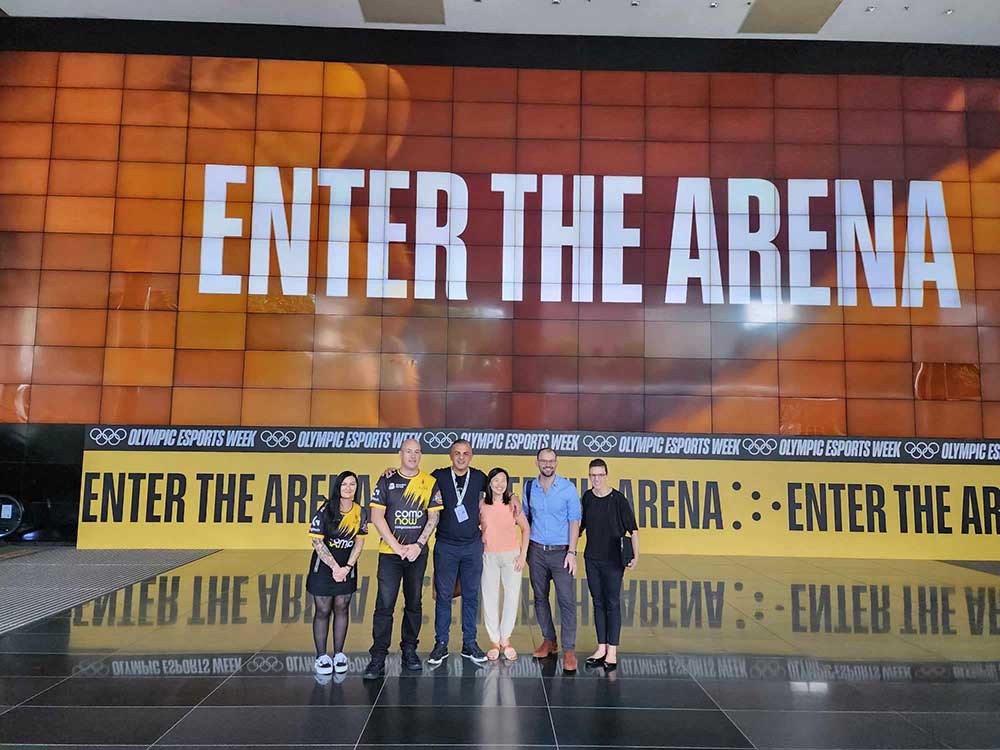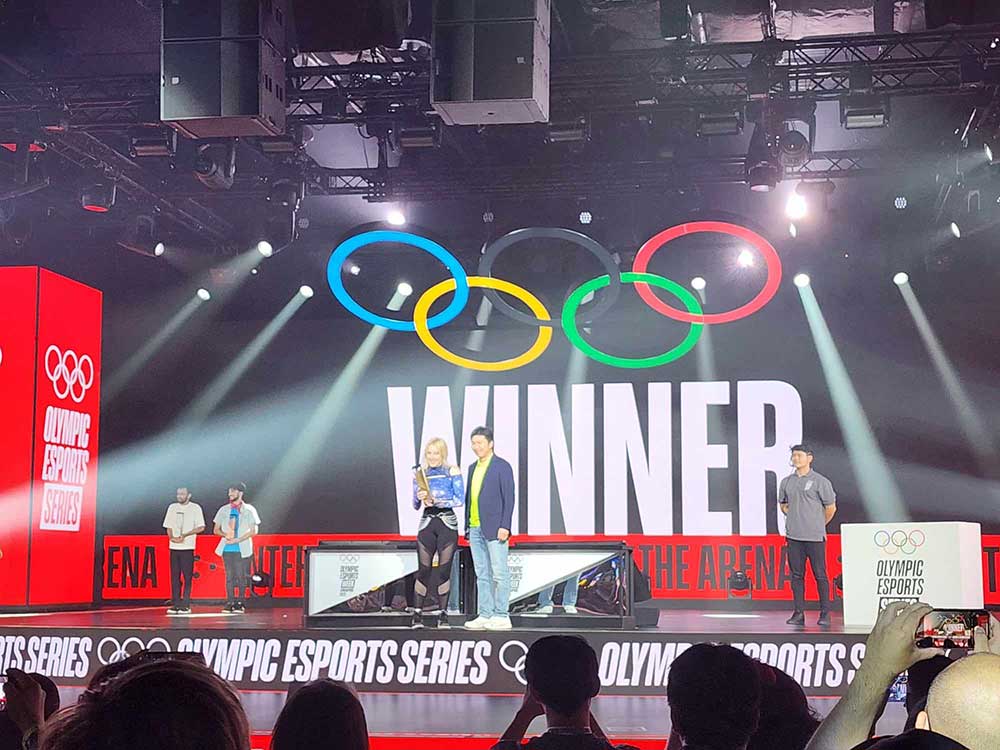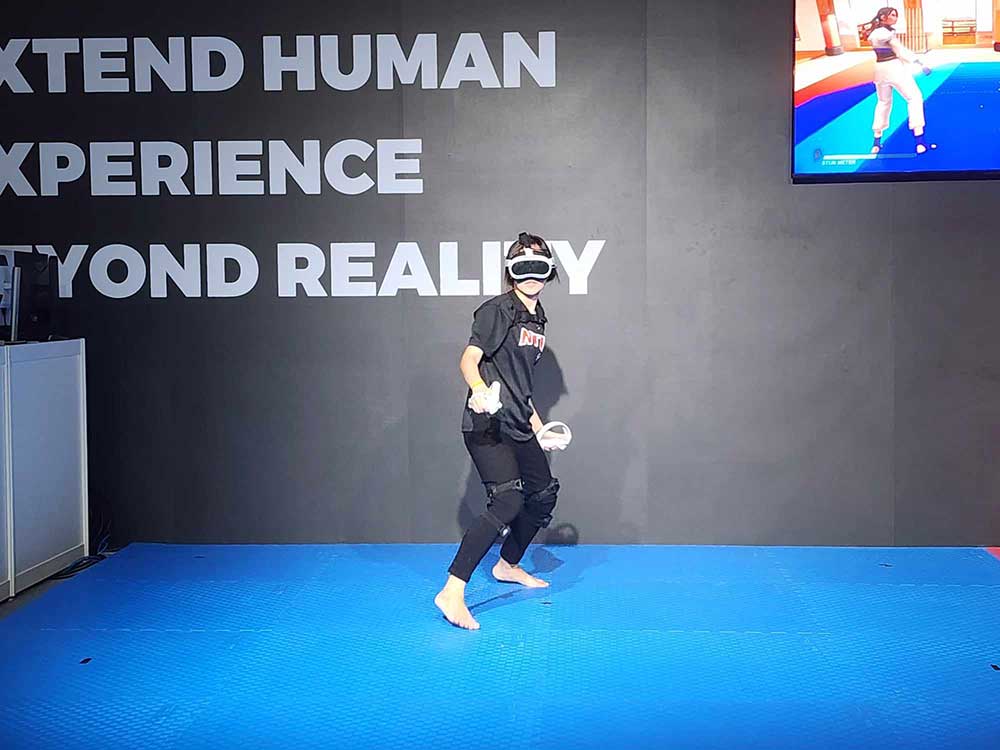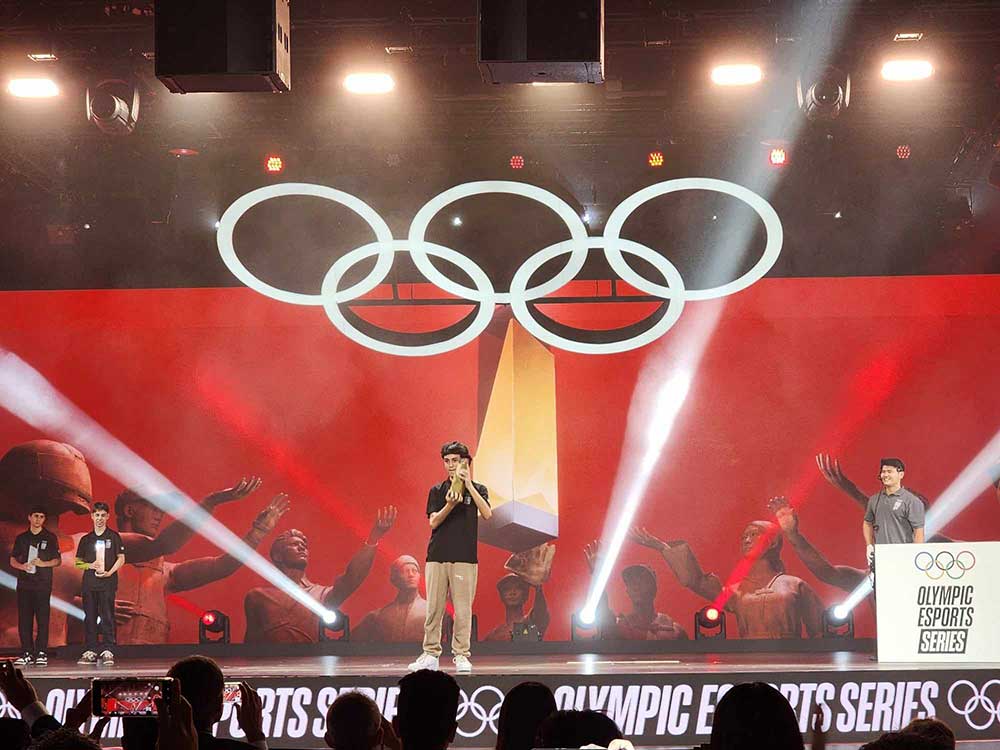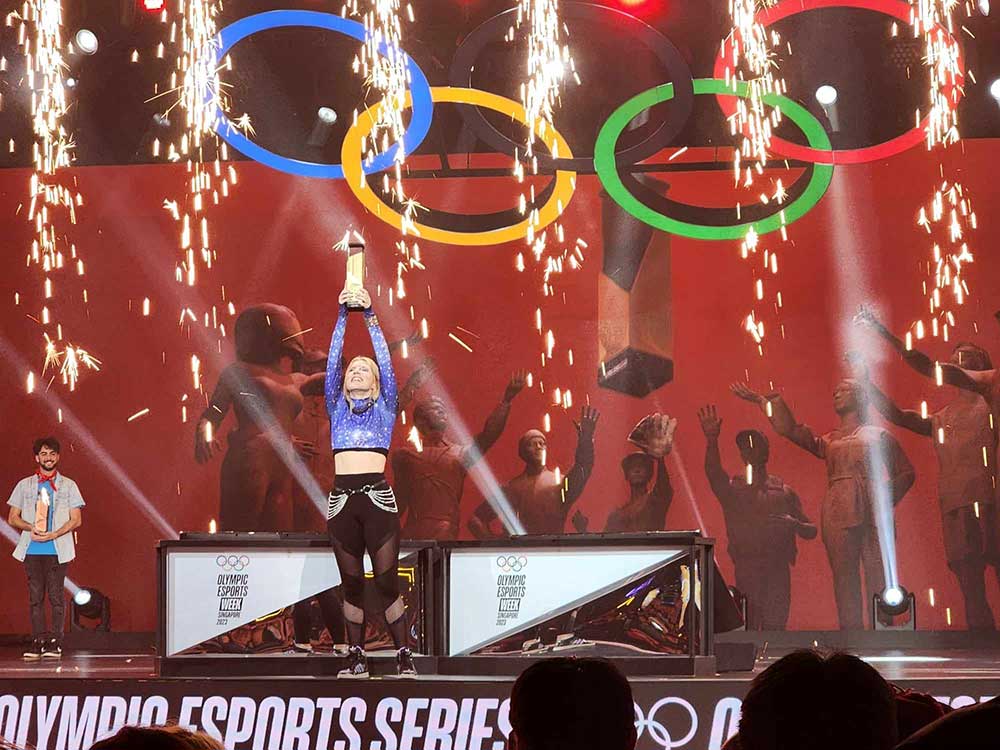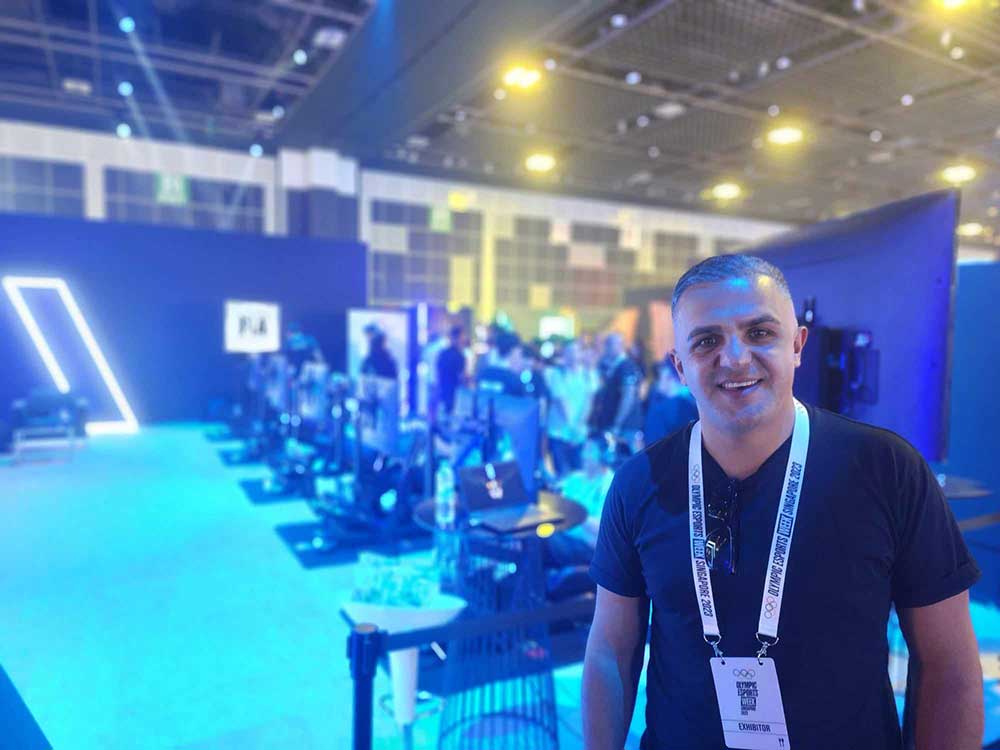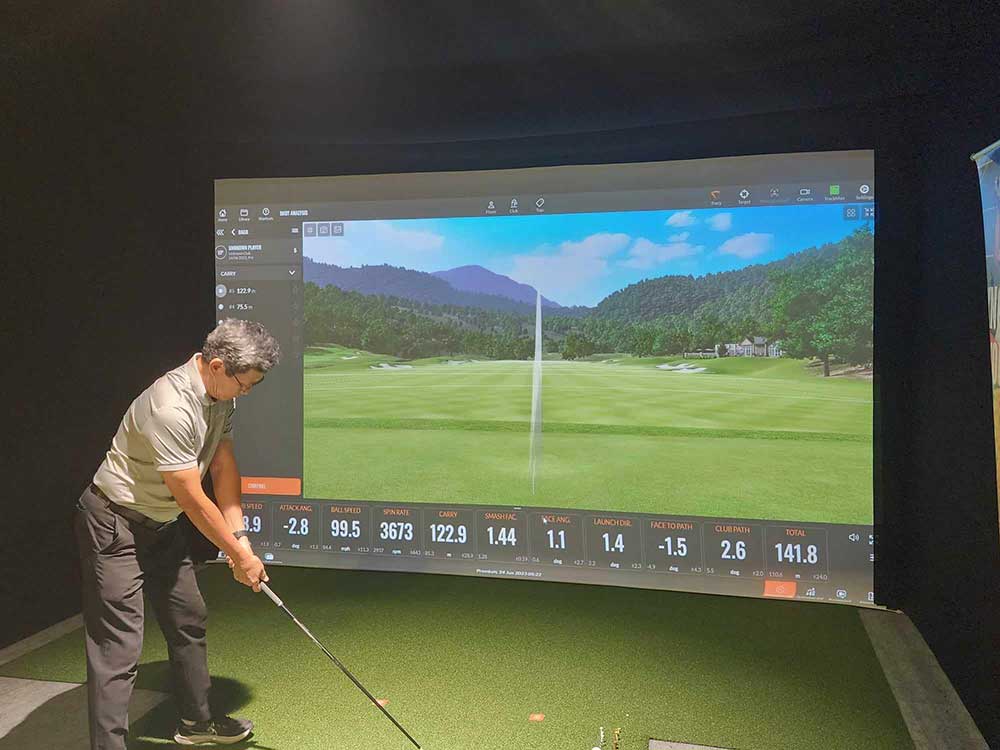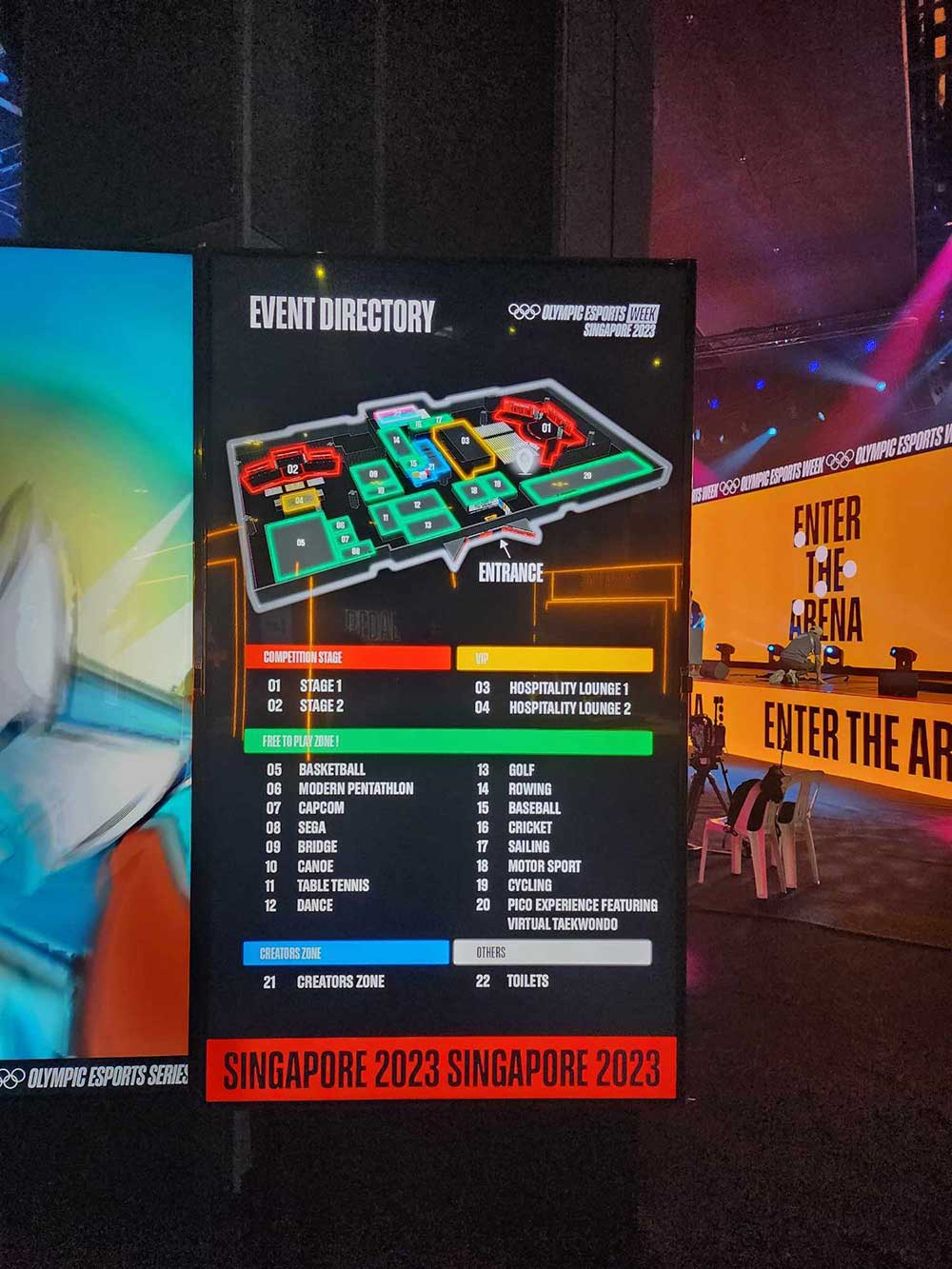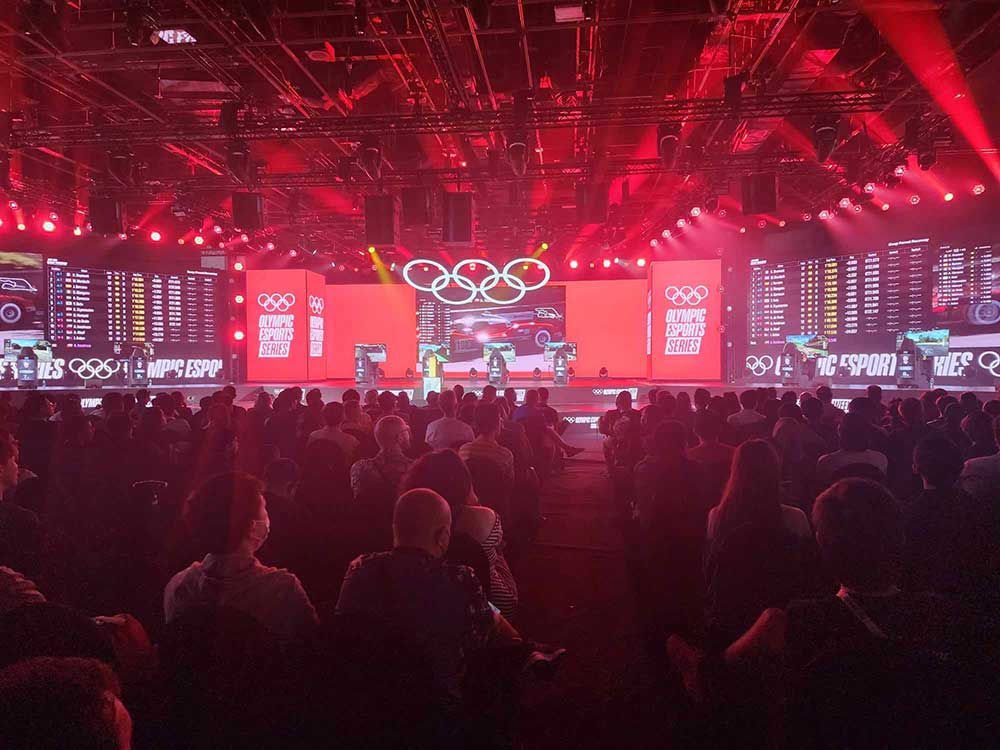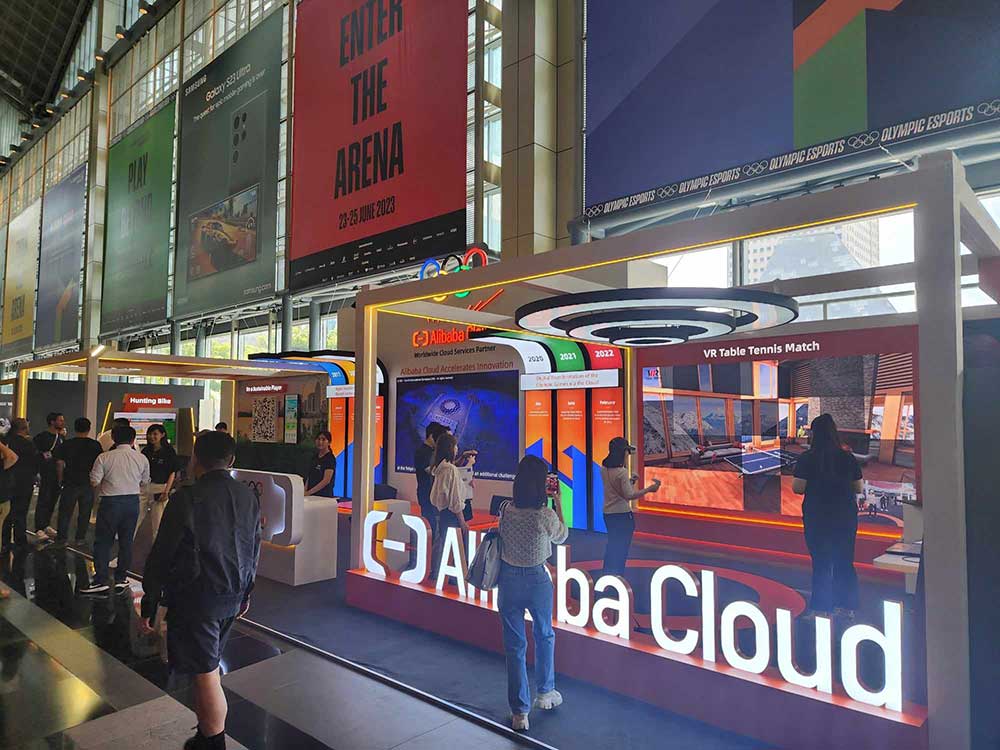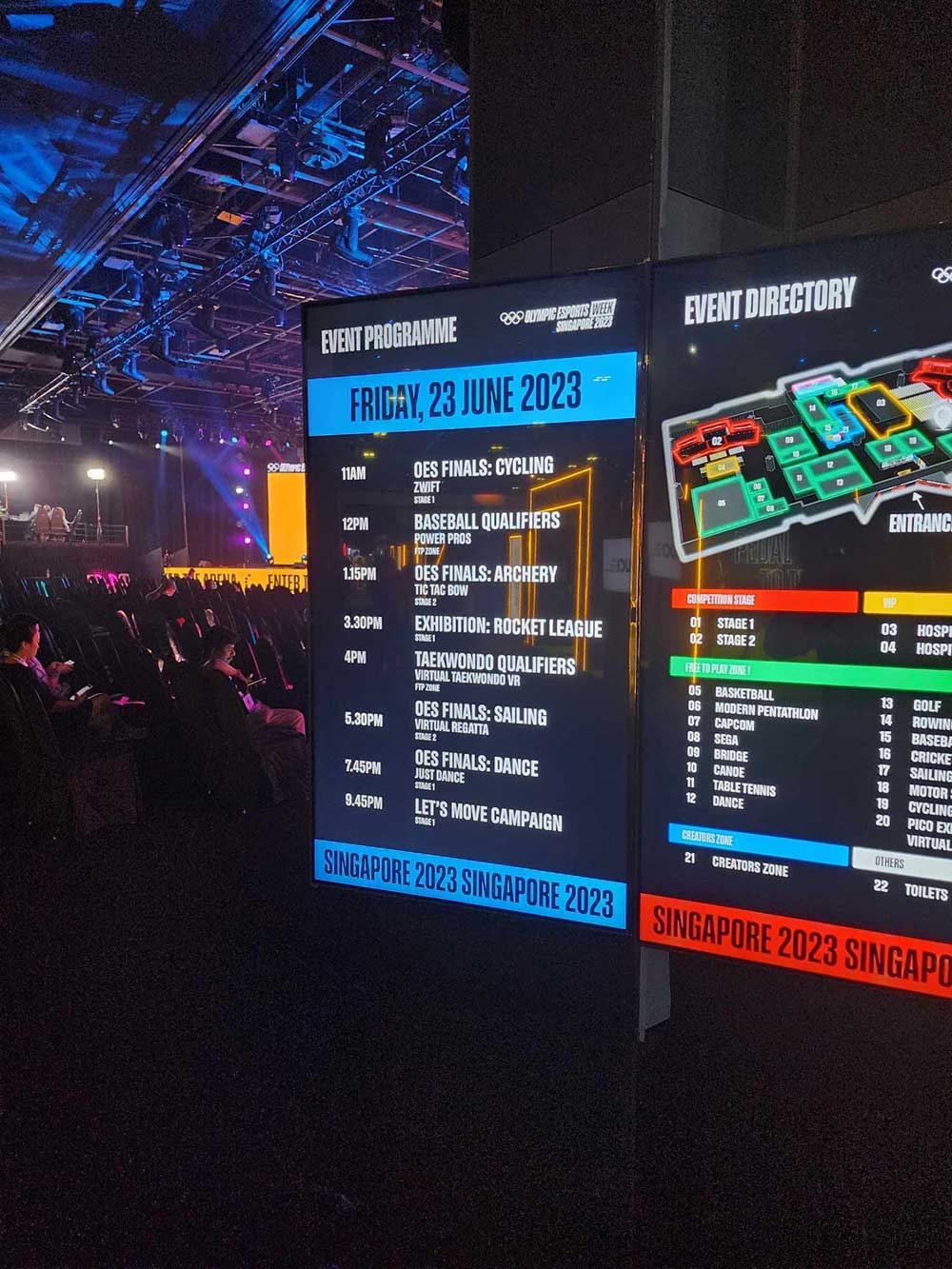 1 https://www.suntecsingapore.com/
2 https://us.zwift.com/
3 https://justdancenow.com/
4 https://www.gran-turismo.com/au/
5 https://nextlevelracing.com/