Digital Innovation Festival Victoria - Panel Discussion: Boosting participation and leadership of women in sportstech
Date: 15-Sep-2022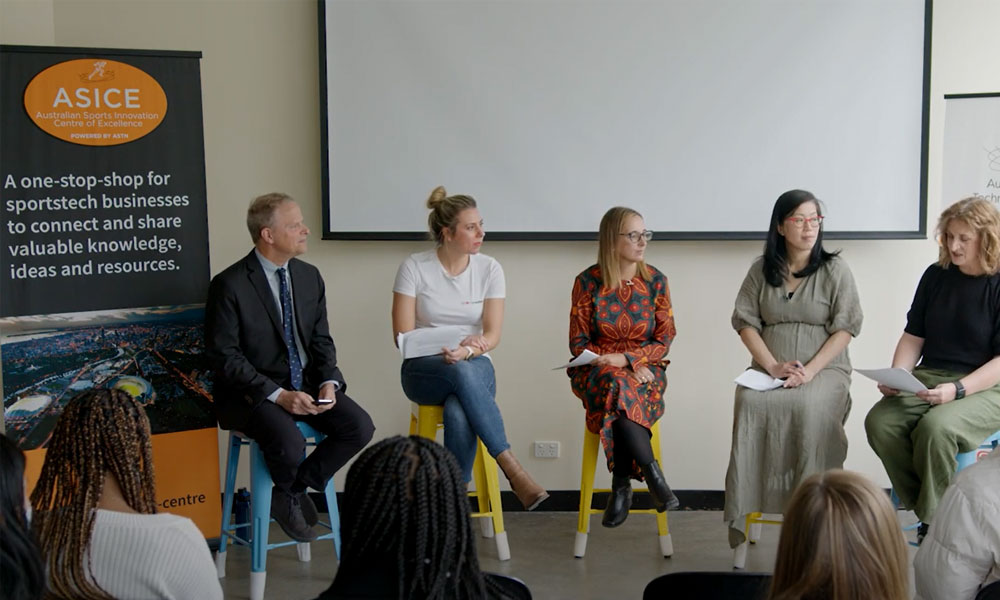 The panel was moderated by Emma Sherry from Swinburne University and was joined by a panel of experts covering both sports and tech including Bianca Keel (Sportradar), Iris Cordoba (GSIC), Tod Bergstrom (University of Washington) and Jasmine Lim (ASTN and Victoria Racing Club).
As sportstech continues its growth trajectory in the lead up to the 2032 Olympics in Brisbane, now is the time to put opportunities for women's participation and leadership for sportstech on the agenda.
Key panel takeaways:
Creating visibility is key
Sportradar strives to hire, develop and retain top talent by emphasising diversity, inclusion and equity through initiatives such as its global Women in Technology initiative.
"We are helping to educate our hiring managers and talent acquisition teams about the importance of bringing women into the sector, teaching them about unconscious bias, and bringing awareness to the fact that it's important to us. And by participating and sponsoring events we are demonstrating our commitment to women in technology," said Bianca Keel, Sportradar.
Encouraging STEM careers starts in schools
A few years ago, Global Sports Innovation Centre (GSIC) powered by Microsoft asked its ecosystem how many women founded their company. Of 300 companies only six per cent were founded by women. To bridge this gap, Microsoft created new programs to help women in sport and now run more than 100 activities a year and support international women in sport events.
Iris Cordoba (GSIC) believes women in sportstech need greater visibility, technology support and investment.
"At GSIC we have the Showcase Centre in Madrid where we show how the technology is transforming the sport industry. We invite students to show them this and inspire them to study a STEM career. If we want to promote more women leaders in the sportech industry we need to start at the school level to promote more diversity for women in tech," said Iris Cordoba, GSIC.
Title IX celebrates its 50th anniversary
The introduction of Title IX in 1972 led to an increase in the number of females participating in organised sports within American academic institutions followed by growing interest in initiating and developing programs to support women's equality and equity in sport.
Title IX states: No person in the United States shall on the basis of sex be excluded from participation in, be denied the benefits of, or be subjected to discrimination under any education or program activity that is receiving federal financial assistance.
"If you provide an educational program in the United States at the elementary, secondary or college level and you're receiving any federal funds, you can't discriminate against women on the basis of sex. This has expanded the opportunity for women to engage in athletics to achieve their full potential and we've seen so many examples of this," said Tod Bergstrom, University of Washington.
Bergstrom said that the US Women's national soccer team (USWNT) is a great example of how Title IX has opened new opportunities for women. USWNT is regarded as the most successful women sports team in Football in the last 50 years with four World Cup titles, four Olympic Gold Medals and nine CONCACAF Gold Cups.
"Title IX created an avenue where schools opened other opportunities (scholarships etc.) for women to participate. We have seen individual examples of women being able to take advantage of these opportunities to put them on an even playing field, but we also see it systemically and I think women soccer is the best example of success across the board," said Bergstrom.
Cross transfer of skills from other sectors is vital
Research shows that less than five per cent of sportstech founders in Australia are women. As part of its current educational programs, ASTN has demonstrated above industry average outcomes – with more than twelve percent of female founders or co-founders participating in ASTN programs.
However, ASTN recognises that a specific and separate approach is required to effectively uplift female participation and long-term impact.
ASTN recently announced a long-term partnership with Women in Sports Tech (WiST) to work together to increase representation of women in the sportstech industry in Australia.
"One area where we are helping women into more leadership positions is by providing priority access to the ASTN and GSIC pre-accelerator and accelerator programs. We want to open these programs to other sectors within the STEM industry. Areas such as AI, robotics and blockchain would facilitate knowledge transfers into sportstech. And that would lead to innovation organically – so that cross pollution of ideas would lead to new ideas being formed," said Jasmine Lim, Deputy Chair, ASTN.
Diversity is a catalyst for innovation
Assisting female founders from these sectors to apply their knowledge into sport will not only help those founders, but also uplift innovation capability of the entire sector based on increased diversity.
"Women have so much to bring to the table... When it comes to innovation, we need different and new ways of thinking. That's how we get to that innovative approach and continue to drive sportstech innovation," added Keel.
Future focused: ASTN is committed to shifting the culture of sportstech
ASTN recognises that the industry still has a long way to go in terms of driving more diversity across the sportstech sector – but is committed to taking a proactive and strategic approach to drive real industry change.
Working closely with WiST, ASTN is looking to address four key areas.
Provide priority access to female founders/co-founders for the ASTN pre- accelerator and accelerator programs
Focus on cross transfer from other sectors that enjoy greater female representation (i.e. social enterprise, design, health and medtech).
Provide 1:1 mentorship. ASTN will coordinate mentorship programs from female leaders in sportstech (selected nationally and globally) – ideally from women who have taken untraditional route to the sportstech industry to increase awareness and understanding of the business of sport, innovation and career pathways and opportunities.
Offer Scholarships for the Women in Leadership Program delivered by the University of California, Berkeley. Upon completion, the candidates will get an opportunity to work with the team at WiST and connect with peers and potential VCs in the US to seek funding for their business and ideas.
"ASTN is committed to working closely with leaders in its network to increase female representation in the industry. By giving women more opportunity, support, access and investment, we are confident that we can make significant strides in changing the ratio of women in sportstech over the next 24-36 months," said Martin Schlegel, Chair, ASTN.