Zonely: An early-stage sportstech startup using technology to revolutionise how we build community through social sport, starting with golf
Date: 20-Sep-2023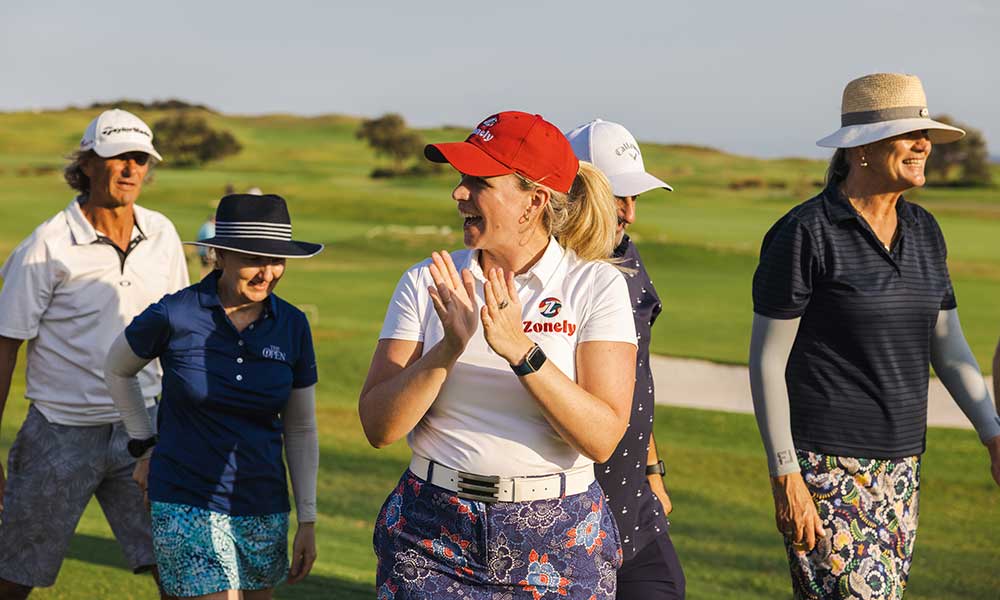 The Nagle blood runs green
Zonely Founder, Alicia Nagle was born into 'golf royalty' growing up surrounded by golf, as her Pa, Aussie golf legend Kel Nagle, won the 1960 British Open and was runner-up at the 1965 US Open. A strong golfing family background and a passion for giving back to her community led to her first venture as a startup founder.
Nagle's passion for community building was developed from an early age and in her 20's she became a volunteer firefighter and surf lifesaver. She spent the past decade working in marketing and customer experience strategy in both Australia and the United Kingdom and she has used these experiences to build Zonely with a unique idea of 'golf as a shared experience'. Nagle is just getting started but her sights are set on making Zonely the number one social sport community and marketplace in Australia and the world.
Zonely promotes physical, mental and social health by bringing diverse groups of people together from all golfing abilities, disabilities, genders and backgrounds to have fun, socialise, network and play golf. "We are building a community where anyone is welcome, and anyone can play. I'm on a mission to breakdown the stigma and the barriers that golf is elitist, exclusive and expensive. It's not and it doesn't need to be," said Nagle.
Zonely has facilitated more than 100 individual golf games and achieved more than 20,000 exercise minutes for the Zonely community since officially launching in March 2023. Events are currently being held in Sydney and Nagle is exploring other venues and locations across Australia to build the Zonely community nationally. Once the concept of golf is proven, Zonely will scale into other sports such as tennis.
The power of connection and community
Nagle is known to her friends as 'the connector' due to being incredibly passionate about the value of connection and the power of creating belonging through community, which she believes is more important than ever post-pandemic.
"I'm building an inclusive platform that strips out judgement of people's ability. From seasoned golfers to beginners who just want to get out and enjoy the natural environment. We are giving people a way to try something new, with different people, within a safe and vetted community."
Nagle is weary of 'un-social media' and says that even though we are more connected than ever through our devices and technology, we are also more isolated because of it. "Australians are working from home a lot more and one in four live alone. I believe there are ways to use social media to build more connection, not less. Zonely is currently utilising social media to build the community and the Zonely marketplace platform will create an easy way to connect with others online but still meet face-to-face to play the sport or activity," said Nagle.
Australian Sports Technologies Network: an extra club in the bag
Nagle participated in Cohort 2 of the ASTN pre-accelerator program in 2021. In the pre-accelerator Zonely was in a very early ideation stage, prior to any customers or revenue. Nagle joined the pre-accelerator to verify her business model and to tap into the ASTN's invaluable mentoring and network connections. With support from ASTN the Zonely MVP has been tested and is now in market.
Multiple ASTN mentors provided feedback and advice to Alicia during and after the program. "It has been interesting to see how Alicia's passion for community building eventually resulted in a platform business model" said Craig Hill, one of the startup mentors in the ASTN program.
"ASTN has been in my corner since day one supporting my vision for Zonely and I'm thankful for how far Zonely has come since the ASTN pre-accelerator," said Nagle. Nagle admits that being a startup is a lonely existence – just like playing golf when you can't find the right people. "Communities like ASTN can connect you with other founders who are going through similar experiences. You don't need to do it all by yourself. Sometimes it's about putting your hand up and asking for help," said Nagle.
What is the future for Zonely?
Zonely is listing new events every week, growing its reach and connecting with more and more golf enthusiasts to build the Zonely network beyond Sydney and beyond golf.
"We are now focused on expanding our audience, taking feedback, and building programs that the community is telling us that they want and need. Success for Zonely is more people connecting, more people playing games and more people physically exercising. I really want to serve this community that I love, and ultimately, give people an easy way to connect, get active and thrive," said Nagle.
To find out more about Zonely visit www.zonely.co