Zena Sport: Helping a new generation of females to play with confidence
Date: 8-Jun-2022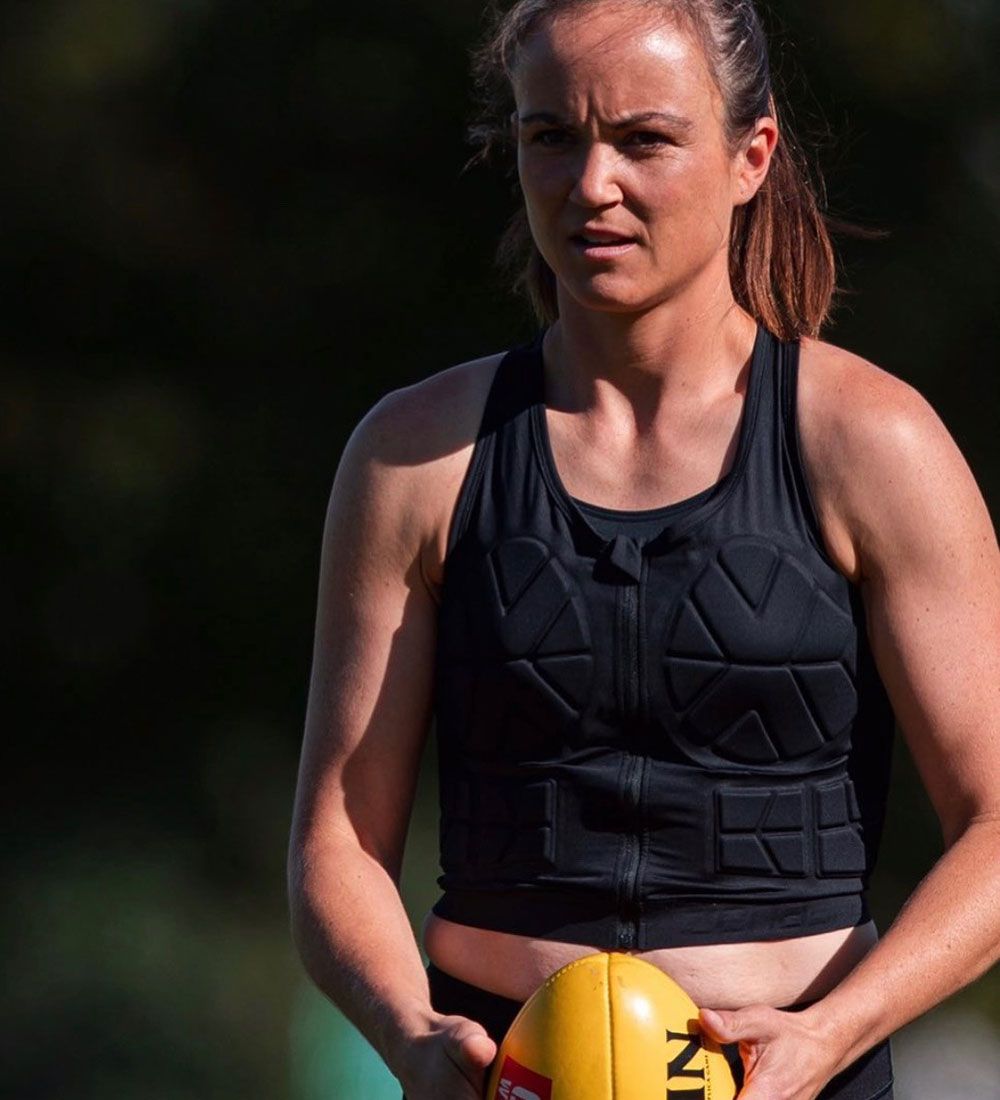 Zena Sport is a Geelong based sportstech company that is changing the narrative for women in sport.
Entrepreneur and sport enthusiast Donna Johnson felt equally frustrated and inspired after a conversation with a friend who had three daughters playing Australian Rules Football while going through adolescence. Donna was shocked to learn that there wasn't any chest protective wear available to young female players.
"I couldn't believe adolescent girls were playing such a high-impact, contact sport but weren't protecting one of the most important areas of their body, particularly at a time when they are developing," said Donna.
"I felt strongly that women needed better protection for their breasts and ribs as they competed in a high intensity, quickly improving and increasingly professional competition."
With very little data available on the risks of breast injury in contact sport, founders Donna and Brad Johnson – a former AFL player and former Captain of the Western Bulldogs – began their own research study to find out more. The research showed that a high percentage of female participants had received some form of breast or rib injury.
Together the husband-and-wife team recognised the need to design a protective garment for women's sport – and also felt a responsibility to educate females and the wider sports industry around the risks associated with breast injury due to contact sport.
A game-changing impact performance vest
After several years of research and development, the Zena Z1 was born. A game-changing impact performance vest that provides the most advanced female chest and rib protection for contact sports. The Zena vest has been proven through research conducted by Deakin University (Centre for Sport Research) to significantly reduce impact across the upper torso.
"We've designed a moulded vest that fits perfectly around the female body. It's extremely lightweight and agile with no restriction to a player's movements. We cover the whole sporting journey – from young girls that are starting out in sport, to elite athletes that have had previous health issues," said Brad.
The name Zena means variations of 'strength' or 'warrior' in different cultures around the world. The vests are designed for female athletes to be warriors of their game and play with confidence.
Fast forward five years and the Zena vest is worn in over 30 sports. And Zena Sport now has major partnerships with sports including AFLW, NBL1, Lacrosse Australia, Softball Australia and Blind Sports Australia.
"The feedback has been phenomenal from elite athletes to grassroots sport. They love wearing the vest, it leaves them feeling confident and they don't even know they have it on," said Brad.
Support from ASTN to take Zena to market
"We had to really fight through that first stage of the business in terms of what path to take and how to go about it. It was a challenging few years and just to get that first vest was a big deal for us."
Donna and Brad were involved in the ASTN's Accelerator Program in September 2019 a program that supports start-up entrepreneurs to validate their on or off-field sportstech business ideas.
"ASTN played a big part in our success from the beginning. Craig Hill (Sportstech Start-up Advisor and Industry Analyst) and the rest of the team at ASTN helped to guide us through the whole process of taking our product to market.
"From mentoring to connecting us with right people and helping us with major contracts – the support from ASTN meant that we didn't make mistakes in that critical first stage," added Brad.
The future of Zena Sport
Brad says that the vest has had two years of great feedback and has been well received by the sporting industry, and now Zena Sport is in a massive growth phase.
"We are now focussed on scaling the business to make the vest available to female athletes at all levels of sports. We are working with resellers and sporting groups around the country to bring this vision to life."
"We are incredibly passionate about participation and education. We want to see as many females as possible playing sport and come out of the other side healthy. And we're excited about what's to come for Zena Sport," added Brad.
To find out more about Zena Sport visit www.zenasport.co