Traits Insights: Translating complex sports data into meaningful player insights
Date: 31-Aug-2022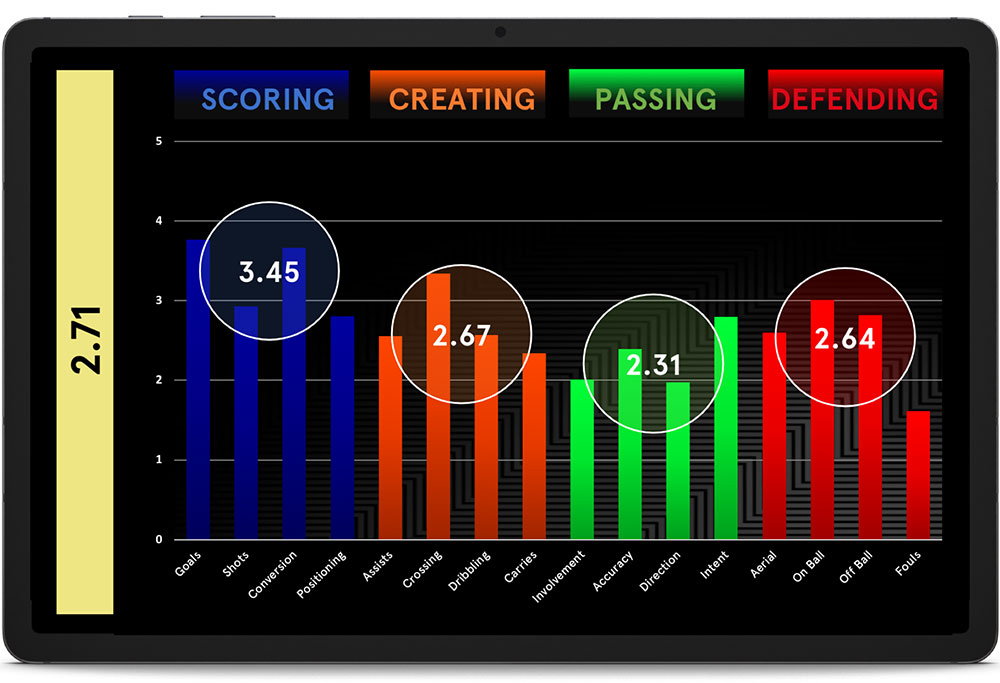 To effectively manage a team in any sport as well as identify potential players to be selected requires, not only extensive data gathering of player performance, but making sense of that data. In the past, coaches and recruitment staff have relied heavily on having a keen eye for talent and manually recorded player activity to wade through post-match or training session. Today, sporting codes have adopted sophisticated methods to gather data but are always on the look-out for ways to better understand it to ultimately enable decision-making that is one step ahead of the competition.
In 2015, Traits Insights Founder Dan Pelchen commenced his PhD in Human Resource Analytics at Deakin University in Melbourne. His studies were focussed on quantifying the potential of prospective AFL draftees. At the same time he started as a Performance Data Analyst at the Collingwood Football Club.
"My research investigated sports performance through the lens of Human Resource Analytics. I wanted to provide recruiters the best information toward understanding talent in the AFL Draft, so they could select the most promising players which is critical in driving success on the field," said Pelchen.
Speaking the expert's language
Pelchen's PhD explored ways to translate enormous quantities of complex raw player data and statistics into language, terminology and philosophies of an individual club's coaching and recruiting teams.
"To evaluate the potential of a player you need to look at their data and how it compares historically. Statistics are recorded like tackle counts, touches, goals scored and kicking efficiencies. These can be broken down to even more granular numbers, far beyond what fans might see. For example kicking statistics are made up of the volume of kicks, kick length, type and accuracy. My methodology distils all of this data into just one number with the weighting and derivatives determined based on the values of an individual team. It essentially provides an intuitive framework for a player's technical profile which culminates in an overall performance rating."
Pelchen applied his research at Collingwood Football Club and management were impressed with how effectively the solution profiled players for recruitment purposes, that they applied it to development, match-selection and opposition performance analysis. It meant that the entire football department – from coaches, to recruitment and the players themselves – were using a common language when interpreting data.
Learning the traits of another football code
Pelchen realised he was onto something and could see how the solution could benefit other sporting codes. Pelchen presented his research domestically and abroad, including in 2017 at the Sports Tech World Series Conference in London where influential leaders in the English Premier League took notice. "European football clubs appreciate the depth of data analytics undertaken in the AFL, but have some unique challenges when trying to enhance the cultural appetite and data literacy of domain experts."
Chelsea Football Club was impressed by how different the Traits analysis compared to other player profiling and scouting platforms. It moved analytics beyond player data and statistics into language that was consistent, specific and meaningful for their club decision-makers.
In July 2018 Chelsea Football Club engaged Pelchen as a Performance Data Analyst with a focus on testing and applying his methodology. The value of Traits was quickly proven. Just like Collingwood, Chelsea leveraged the tool not only for recruitment, but across the entire football department, profiling players for devopment purposes and opposition analysis as well.
From within clubs to scaling up
Pelchen was encouraged by the validation of the two football powerhouses, and following his time at Chelsea, began working as a consultant helping several clubs implement their own versions of Traits in line with their unique philosophies. He soon realised the limitations of moving from club-to-club delivering a customised solution and saw an opportunity to evolve Traits Insights into a scalable, web-based platform to allow individual teams to configure their raw player data with the platform and then customise the analytics based on their own player and game philosophies.
Australian Sports Technologies Network (ASTN) has been instrumental in guiding Pelchen to understand what was needed to take Traits Insights global.
ASTN in partnership with Global Sports Innovation Centre (GSIC) powered by Microsoft runs a Sportstech Pre-Accelerator Program. In 2021, Pelchen completed the 10-week course aimed at supporting startup entrepreneurs to validate their on or off-field sportstech business idea. Traits Insights was then selected into the 10th Cohort of the ASTN Accelerator Program of which Martin Schlegel, Director of ASTN, was his lead mentor.
"Martin's expertise around the business development process, building a team and planning for the future was crucial. He believed in Traits' vision and became an ongoing mentor, sounding board and a friend."
"ASTN is located at Launchpad at the Australian Sports Innovation Centre of Excellence (ASICE) in Cremorne, Melbourne, on the doorstep of one of the best sporting precincts in the world. There I met other sportstech founders who were going through a similar experience and faced similar challenges which provided a fantastic learning environment. As a sole founder, ASTN has provided me with an invaluable community," said Pelchen.
Tailor-made for any League
A number of iterations of the Traits platform across multiple sports and leagues have culminated into the launch of a white-label, plug-and-play solution that is affordable for the many levels of professional sport. Pricing is somewhat determined by how much data is fed into the platform.
"Traits Insights brings best practice analytics to sporting organisations at a fraction of the cost of a data scientist. The Traits platform can ultimately be used for any sport with enough data, it is really intuitive. Traits has resulted in some excellent performance, recruitment decisions and ultimately high-quality objective conversations around complex data in a way that domain experts can truly relate to," said Pelchen.
Traits insights will officially launch at the Sports Tech World Series Conference in Brisbane in September 2022.
For more information on the platform visit www.traitsinsights.com.