NTT revolutionises the Tour de France, creating an online twin
Date: 4-Aug-2023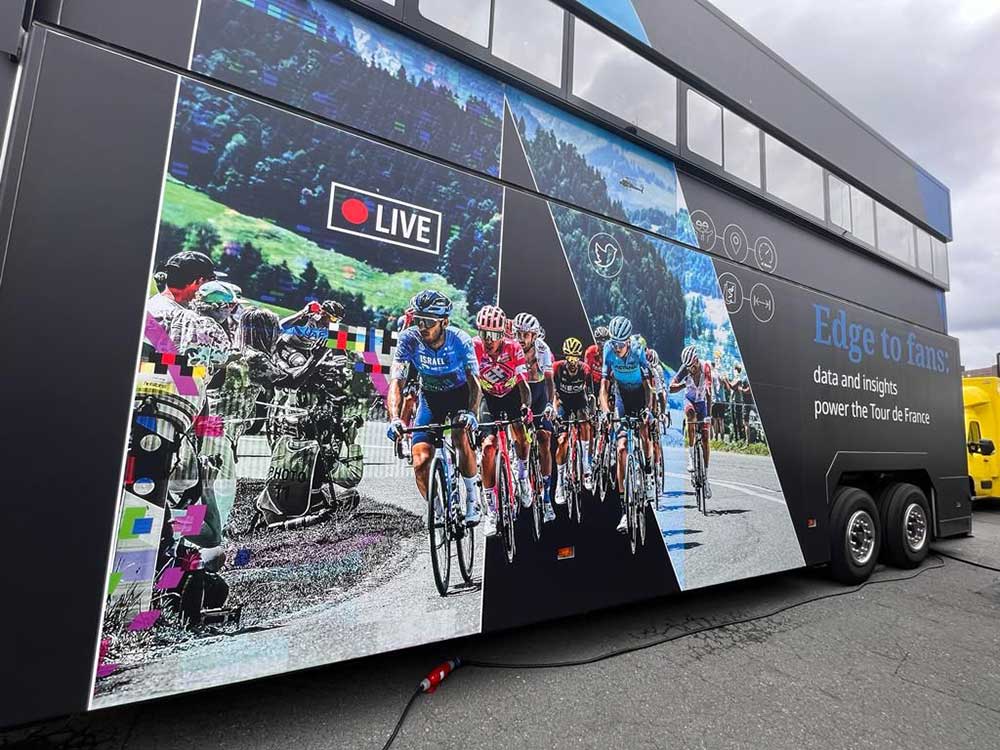 The Tour de France began in 1903 and is a 21 day men's bicycle race. Held in July each year, it takes place primarily in France, while also occasionally passing through nearby countries. It is run by the Amaury Sport Organisation (ASO) and currently features 22 teams, with eight riders in each, covering a distance of around 3,500 kilometres.
Like many cycling fans during the Tour De France, NTT's Senior Vice President of New Ventures and Innovation, Peter Gray, had spent many hours each year glued to his television overnight, absorbing as much of the limited information he was able to through this static, one-way medium. Little did he know, he would later contribute to revolutionising the cycling race, by replicating the race occurring on the ground to an online environment, thus allowing fans to fully engage with the competition, down to the smallest detail.
From concept to completion - how NTT made the Tour's digital twin a reality
It was 2015 and the Global Chairman of Dimension Data (which later became part of NTT Ltd) was having initial conversations with Tour De France about technology solutions that could tap into the rich and interesting data and analytics of the spectacle. Gray, who was working for Oakton at the time, an Australian business that had recently been acquired by Dimension Data, was identified as the best fit to secure a deal as he had the golden combination of being a mad cycling enthusiast as well as the technical know-how that could bring about something game-changing.
"I was excited to be tapped on the shoulder and still pinch myself to this day that I have had the opportunity to create a digital Tour De France experience. I was confident we had all the building blocks to succeed and was keen to set about harnessing the sophisticated technology tools that were available to deliver a digital picture of what was happening in real life. We wanted to enable people across the world to view and explore thousands of data points in real time that were happening at the event," said Peter Gray, Senior Vice President of New Ventures and Innovation, NTT.
NTT's relationship with the Tour had an auspicious start. On the plane to meeting ASO in London, Gray and Neil Wilson, the then CEO of Oakton, drew up a one page digital architecture sketch of what they envisioned. It was clear in that meeting that there was a strong alignment of vision and objectives. The partnership was formed, and this will now be the ninth year that NTT is working on the Tour de France with ASO.
The world's largest connected digital stadium
The ASO and NTT agreed they needed to digitise the Tour. It needed to move from a TV broadcast product and evolve into the digital world to enhance the audience experience with new digital offerings and products. This meant leveraging a digital fabric consisting of IoT sensors, edge computing, network connectivity technologies and real-time analytics.
The digital twin they created is an accurate model of the entire race route as well as all other areas associated with the race. Digital twins are usually based on stadium events but this project really set a new standard, scaling the concept to encompass the entire country of France.
"Initially, we put trackers onto each bike and rider, so spectators at home could accurately view where the cyclists were at all times. Audience members were then able to interact with the solution, choosing their favourite riders, checking conditions like slope gradients, wind force and which group a cyclist fell into," said Gray.
The Tour de France moves every single day, regularly travelling hundreds of kilometres between towns. With riders spread across up to 30kms and 40 separate groups in the mountains, this was an exceptional challenge. ASO and NTT had to overcome the fact there was no mobile coverage over many lengths of the course. It also had to navigate an array of complex logistical hurdles such as ensuring a dedicated team was on the road at all times, working closely with TV production crews. This team on the ground is augmented by teams from all around the world, with people working on the tech platforms behind the scenes in South Africa, Australia, India the UK and of course Paris.
Cycling teams saw the benefits of the rich data and also began utilising it to assist them in understanding the race situation and adapting their race strategy. The detailed information NTT was able to capture about their riders made it easier to see where their riders were located and outline the composition and time gaps for each group on the road.
Over time NTT has elevated the twin to also incorporate factors from across the entire event, supporting the race operations. "Using sensors, we track everything from race vehicles, the publicity caravan, and crowd volumes through to weather. Now we have a 3D map with the whole village, trucks and facilities, all in one view," said Gray.
Tour de France Femme injects long awaited diversity and inclusion into the race
2022 was a pivotal year for the Tour De France and ASO as they initiated the Tour de France Femme, an eight-day women-only cycling race that takes place after the men's event each July. Gray said Femme changes the game for the better and he is proud to support the promotion of such a premier women's event.
"The launch of Tour de France Femme is a positive step in the right direction for women in sport more broadly and is something that women's cycling has needed for a long time. Creating a digital twin for both races increases visibility and fan engagement for women in sport and we are thrilled to be able to contribute to its success," said Gray.
Tapping into bright minds through Australian Sports Technologies Network
NTT has worked closely with the Australian Sports Technologies Network (ASTN) in recent years. Gray says the team at NTT finds the connections that ASTN fosters invaluable, and it enables them to connect with others in the industry who are working in the same area and face similar challenges.
"We have benefitted from taking part in ASTN workshops and hearing from guest speakers that ASTN has brought to Australia. Some of the creative ideas and concepts that I have come across through ASTN have helped us to determine who we should partner with to bring out new solutions and new ideas," said Gray.
According to Gray, sportstech in Australia has a great future. He believes the vibrant sportstech sector will grow in its influence globally as a key exporter.
"Australia's sportstech startup landscape is exciting and it is great to see the growth in the industry here. I'm constantly impressed by Aussie sportstech founders and the way they are in many cases leading the world in the solutions they are developing, and solving real and practical problems. I love spending time with people who are breaking new ground and building exciting things," said Gray.
The creation of TwinLabs.ai
NTT recently announced the launch of TwinLabs.ai, an exciting new sports technology startup, with Gray at the helm. TwinLabs.ai will further develop the market-leading technology solutions from the Tour de France and commercialise the real-time tracking and digital twin technology for cycling and other events. The creation of this highly agile and focused startup, will enable ongoing innovation and development of solutions for the cycling and broader sports and events industry.
"We are excited about the opportunity to bring the solutions we have developed for the Tour de France and make this technology more broadly accessible to other events. We know that the best sports organisations are increasingly using data to create great experiences for fans, support athlete performance, and manage complex event operations. TwinLabs.ai has been created to help them do that," said Peter Gray, CEO, TwinLabs.ai
NTT will partner together with TwinLabs.ai to provide ongoing seamless support for the Tour de France and Tour de France Femmes avec Zwift.
NTT isn't riding in the slip stream, it's cutting the wind
This year NTT, together with TwinLabs.ai, will again apply the idea of the digital twin to the Tour and Gray is constantly answering the question: how can we make this great event easier to understand? "We plan to leverage the constantly evolving capabilities of Artificial Intelligence and machine learning to further broaden the digital capabilities each year, in turn continuing to enhance the fan experience," closed Gray.
Looking around the bend, NTT is exploring how it can take the learnings from its work on the Tour and broaden the usage of the twin concept to many other customers and industries.
For more information on NTT visit https://www.global.ntt/26/07/2023
To listen to the full interview with Peter Gray on ASTN Sport's Cutting Edge podcast visit: Podcast #52: The Sportstech that powers the Tour de France, and the Aussie bloke who makes it happen (astn.com.au)