Cape Bionics: Medical grade compression apparel that's out of this world
Date: 22-Jun-2022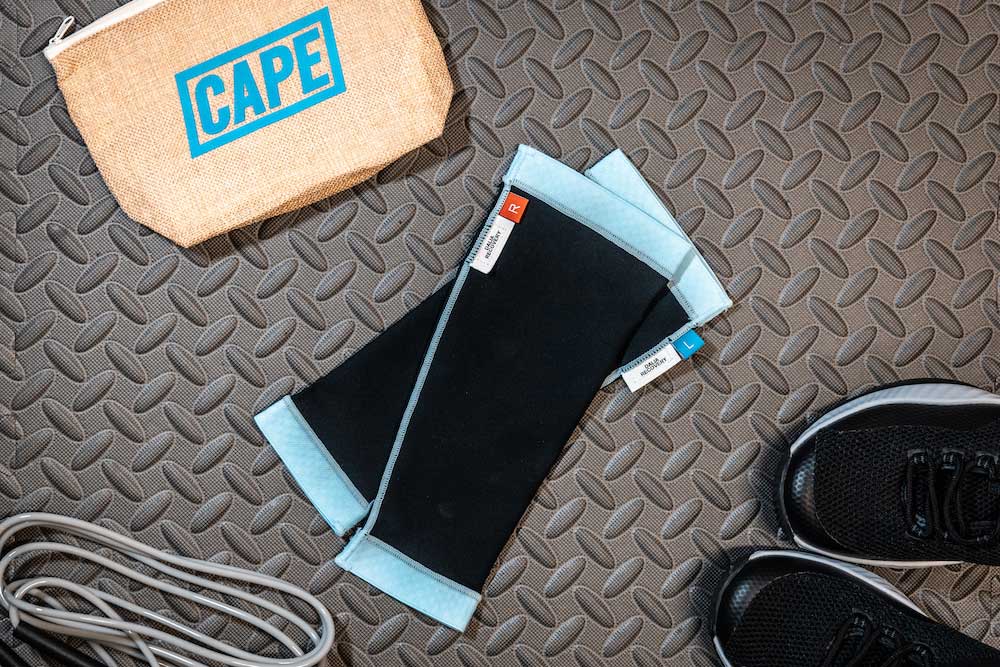 After working as an Aerospace Engineer for 18 years, Waldie was ready for a change. A discussion with James Turner – next door neighbour and successful entrepreneur turned investor and now co-founder of Cape Bionics – inspired Waldie to shift his focus to improve compression garments for the sports industry and commercialise what he'd learnt from designing space suits.
"I believed that sport compression was simply tight fashion – it was not as professional or effective as compression in the aerospace and medical industries. I knew I had the solution to bridge that gap, and I didn't want to wake up one day and see someone else had done it," said Waldie.
In 2016 Cape Bionics was born – bringing the world's most advanced compression technology from aerospace and medical industries to professional sports. Cape Bionics delivers custom-fit garments with different compression regimes for travel, performance, recovery or rehabilitation. These specific compression regimes are tailored to augment physiology such as drain fluids and augment blood flow.
Cape products are accredited as Class 1 Medical Devices under the TGA and FDA. After consultation with teams to understand garment demands, players are professionally 3D scanned on site. Every garment is designed and manufactured from the scan using the CAPE patented AutoTailor manufacturing technology in Melbourne, Australia from premium Italian sports fabrics.
Fast forward six years and Cape Bionics has a growing team of around 12 people strong and is starting to dominate the Australian market – working closely with Australia's top sporting groups including Port Adelaide, Essendon Football Club, Melbourne Victory, Gold Coast Suns, St Kilda Football Club, QAS and several Olympic sports.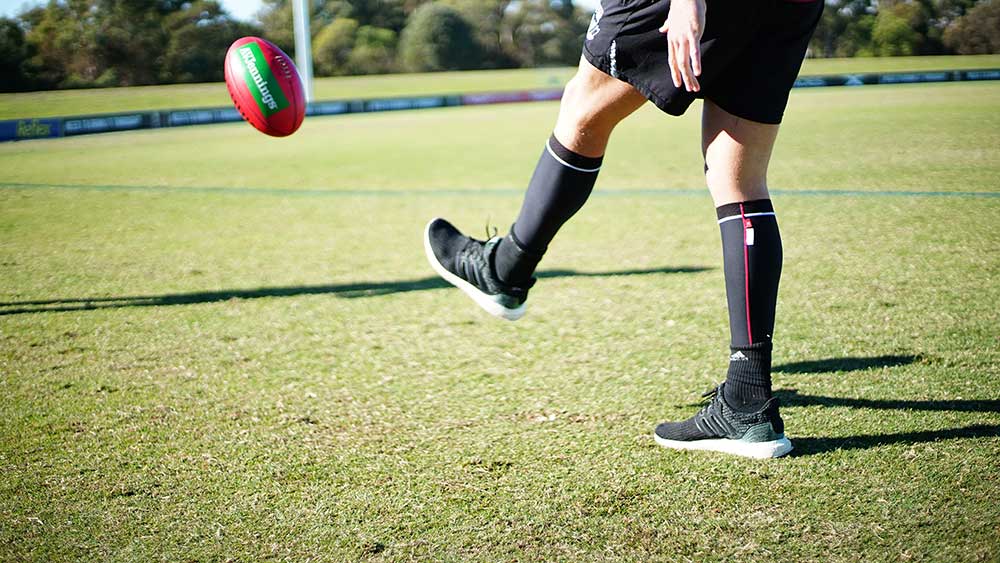 Proved by space age science
What sets Cape Bionics apart from mass market fashion or athleisure compression apparel is the space-age science behind it. Cape's products have been validated by astronauts and approved by the TGA. Waldie says that Cape knows how to subtly manipulate circulation to augment physiological performance.
"Our customers are the high-performance managers and athletic trainers who are seeking more science-based products to satisfy their craving for real benefit through validation and proof," said Waldie.
Waldie has found there is "healthy scepticism" of compression in the sport sector because compression garments studied to-date have been off-the-shelf fashion garments. As there is a broad range of athlete shapes for each off-the-shelf standard size garment, the compression is highly variable, and therefore so is the outcome.
Recent studies have shown that custom-fit compression helps athletes recover after 24 hrs, but standard compression is still 10 per cent behind after 48 hours – about the same as no compression at all.
"Compression works, but it must be accurate. As other industries have proven, compression garments must be custom-fitted with specific pressure regimes for genuine and consistent results. The sport literature is recognising this now, and the gains are substantial," said Waldie.
Democratising custom-fit compression
For the compression to function effectively, the garment requires extreme precision and custom sizing. Athletes don't have time to stand around for half an hour to be measured, so Waldie and Turner set out to reduce the cost of custom compression.
Cape had to show that it could use technology to drop the cost of custom compression to make it feasible in the sports sector. So the Cape team decided to 3D scan the athlete which only takes a few minutes, and then analyse that scan in extreme detail and design the garment automatically according to the material properties and desired compression regime. AutoTailor was born – enabling Cape to design and produce custom compression garments with unmatched accuracy, speed, affordability and effectiveness.
"Our aim was to catch up to where the aerospace and medical standard was – but we took it one step further."
Cape's automated systems can design the garment at each millimetre along the limb. This is much more accurate than even the traditional custom-fit approach of taking several measurements from a tailor's tape.
Cape is now looking at how it can use new technologies to enable athletes, physios, and allied health practitioners to self-scan using their own devices.
"While we will still visit pro and elite teams as part of a professional and curated service, for other markets we are sending out a sensor that can fit on the front of an ipad that allows us to remotely capture scans. Some of our college teams already have this device, or a scanning booth on campus. And we are also working with Apple Inc. to create a mobile app so anyone can scan themselves using their own device."
This new technology will allow Cape to move from a B2B to a B2C company which will help the company to scale and grow.
"If we want Cape to really explode – and we do – we need to exploit technologies that open new markets via self-scanning," said Waldie.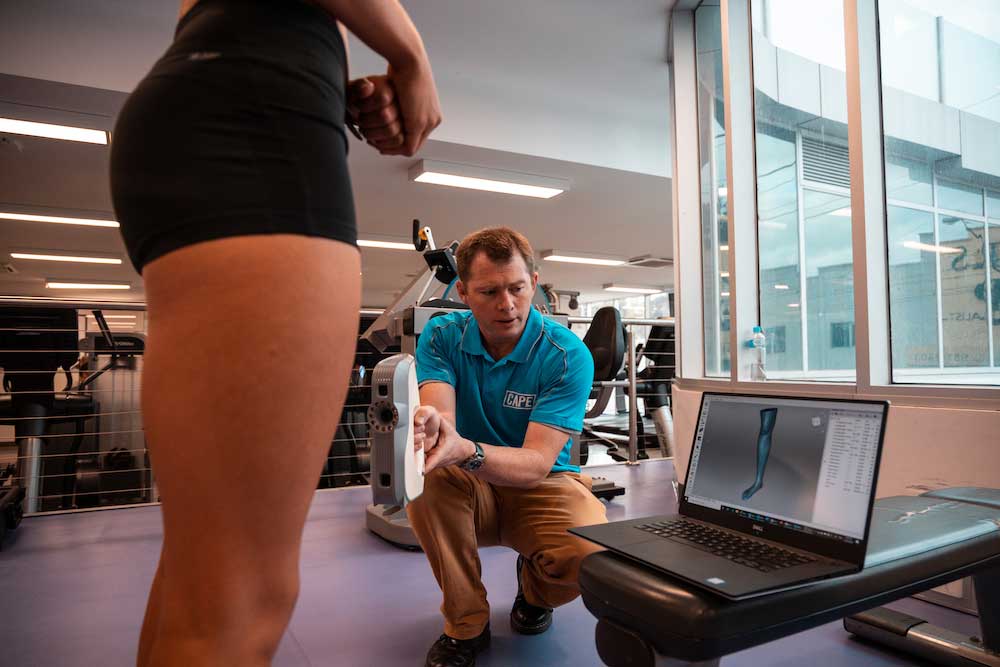 What's next for Cape Bionics?
Waldie now has its sights set on the US market after COVID put things on hold for a few years. Cape has garments on NFL, NBA and NHL athletes, and soon will count NCAA on their roster.
"The US market is huge, and it has a lot of early adopters. Our history of development with NASA and MIT helps with our credibility, but of course Australia has such a prestigious reputation for sports science over there anyway. It's the logical market to start our international expansion. We now have a US entity, with our first employee, and US production about to commence."
Cape is also working on a grant with the Australian Space Agency to develop new suits for the NASA program that's going back to the moon and onto Mars. Cape technology is being used to develop a suite of new suits to be worn inside the spacecraft to reduce astronaut deconditioning, such as bone loss, balance/coordination deficiencies and managing fluid shifts when leaving the microgravity environment to avoid fainting.
Connecting with wider sportstech community
Australian Sports Technologies Network (ASTN) works closely with sportstech firms like Cape Bionics – helping entrepreneurs and startups to scale and commercialise technologies to drive local sportstech success.
Waldie is grateful to the ASTN for connecting him with other startup firms. "Being a startup founder has its ups and downs, and it's incredibly helpful to be around other founders that are going though similar challenges, which ASTN helps to facilitate."
"Five minutes with another founder is gold. To share successes, failures, as well as industry contacts – and to be on that journey together is not only good for business but also the spirit, because the life of an entrepreneur can be very isolating," concluded Waldie.
To find out more about Cape Bionics visit www.capebionics.com